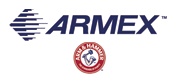 ARMEX The Original Baking Soda Abrasive
When cleaning substrates that cannot be damaged, the only blasting abrasive to use is ARMEX. The gentle physical propriety of baking soda but yet aggressive cleaning ability is what makes ARMEX the only choice. Other hard blasting abrasives can remove surface material from substrates causing permanent damage especially when the operator performing the blasting is not an experienced blaster.
Use on a wide variety of substrates including: Steel, Lead, Aluminum, Alloys, Plastics, Composites/fiberglass, Wood and Masonry materials
Use ARMEX to clean, and remove: Coatings, Grime, Burnt on carbon, Grease and oil and Rust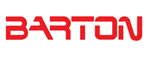 Barton Garnet Abrasives
Barton supplies high-performance garnet blast abrasives for a wide variety of blasting applications. All Barton blasting abrasives are QPL listed, Mil-Spec and CARB certified.
Low dusting and safe to use – Barton garnet is a non-ferrous, 100% natural inert mineral containing <1% free silica.

Barton 36 CG – Coarse. Used to remove thick coatings and marine fouling (20 – 50 mils) and rust
Barton 30×40 – Intermediate. Used to remove heavier coatings (up to 40 mils) and rust while controlling profile
Barton 30×60 PLUS – Medium. Workhorse grade used for new steel and maintenance work on coatings up to 20 mils
Barton 80 HPA – Medium Fine Used on aluminum and other sensitive substrates as well as steel
Barton 100 HPA – Fine Used on aluminum, fiberglass and for removal of rust and mill scale on new steel
Visit the product website for Barton Garnet Blasting Abrasives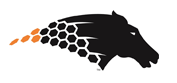 Black Beauty
Black Beauty® Glass abrasives are high quality, chemically inert, environmentally friendly and contain less than 1% free silica, used for removal of surface coatings such as rust, paint and scale from a variety of substrates, especially stainless steel, aluminum, concrete, bricks and wood.
Black Beauty® is a low dusting, low free silica coal slag blasting abrasive that comes in three grades:

medium for general purpose repair and maintenance blasting including removal of paint, rust, mill scale, and other coatings from surfaces
fine for new construction, light paint and rust removal and special maintenance applications requiring reduced profiles
extra-fine for light blasting requiring a clean surface and minimum anchor profile including brush-off blast or high-pressure water blast systems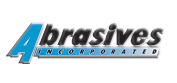 Black Magic®
Black Magic® "The Tough Stuff" Coal Slag is manufactured by Abrasives Incorporated and is noted for it's hardness and superior cleaning performance. It is made up of hard, angular particles for a great cutting edge and are a consistent size and weight. It is fast cleaning and provides an excellent profile for coating adhesion with less dust. Black Magic is a recycled by-product from lignite coal fired electrical power plants, it is 99.9% silica free. Packaging is conveniently sized and can be delivered in 25, 50 or 80 lb paper bags, jumbo cells, or bulk.
Black Magic® is CARB and QPL approved.
Under normal conditions, the typical blast profile is:
Course: 8-20 4 + Mil profile
Medium: 16-40 3 to 4 Mil profile
Fine: 20-40 2 to 3 Mil profile
Extra Fine: 40-60 1 to 2 Mil profile
Blast profile varies due to equipment, PSI and operator.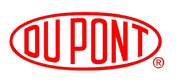 Du Pont
Starblast™ blasting abrasives are a loose blend of uniformly sized coarse and fine staurolite sands that have clean, rounded surfaces. There are three grades: Starblast™, Starblast™ XL, and Starblast™ Ultra.
Starblast™ is a general-purpose staurolite abrasive used in steel fabrication and bridge maintenance to remove rust, mill scale, and weathered coatings.
Starblast™ XL features less than 1% free crystalline silica and meets the most stringent industry and military specifications.

Starblast™ Ultra is designed for applications that require a more aggressive abrasive, such as steel maintenance, heavy rust, and paint removal.
Green Diamond

Green Diamond Abrasive is a fused magnesium ortho silicate, formed from molten lateritic ore and granulated by quenching (slag), used in numerous applications from the removal of tough permanent bonds, to a lower profile for removing light paint and rust.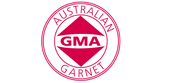 GMA Garnet
GMA Garnet™ abrasive is composed of natural Almandite garnet grains that are known for their natural hardness, durability and abrasive characteristics. GMA offers five grades: NewSteel™, SpeedBlast™, PremiumBlast™, Fine & Superfine.
GMA NewSteel™ garnet abrasive is a high performance blasting abrasive that delivers efficient and cost-effective surface preparation on new steel surfaces, light rust or thin coatings.

GMA SpeedBlast™ garnet abrasive is for blast cleaning surfaces with medium rust or medium thickness coatings.

GMA PremiumBlast™ garnet abrasive is for blast cleaning surfaces with heavy rust or thick coatings.

GMA Fine & Superfine abrasive products are suited for fine and delicate blast cleaning for graffiti and paint removal, stone or brick restoration; automobile, aerospace and boat restoration as well as new fabrication.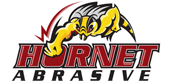 Hornet Abrasive
Hornet is a blend of garnet and hornblende by Mohawk Garnet Inc, used for blasting for shipyards, bridges, highways, tanks, towers, power plants and more.
Visit the product website for Hornet Abrasive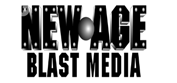 New Age Blast Media
New Age Blast Media is a crushed glass product that comes in 4 grades:
coarse for moderate profiling on aluminum and steel structures, light rust and paint
medium-coarse for heavy/moderate work on tanks, pipes bridges, ships and all general blasting needs
medium for stainless steel for wet/dry blasting of light mil scale, maintenance work, graffiti and restoration
fine for softer metals and substrates. Excellent for etching and degreasing on aluminum, car parts and wood
Visit the product website for New Age Blast Media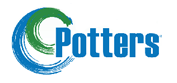 Potters Beads
Ballotini® Solid Glass Microspheres are used for precise metal finishing of parts. They offer an environmentally safe and cost effective method for metal surface cleaning and finishing.
Visit the product website for Ballotini Impact Beads
This list of manufacturers is not a complete list of all manufacturers, is provided for information purposes only, and is not an endorsement of any particular product or manufacturer.
Does your company belong in this directory? Let us know.
Contact a Blasting Expert