Field Markers
Graco sports field line markers are the preferred equipment for fields of any type, indoors or outdoors. From walk behind, light duty field markers to heavy duty riding equipment, Graco high pressure airless technology results in lower paint consumption and professional, bright field lines.
Pro Quality. Pro Performance.
Most competitive low-pressure field markers flood the grass and soil with paint. Graco's high pressure pumps and precision spray tips provide higher quality lines, arcs and circles by applying a fine spray pattern which coats both sides of the grass blade, not the soil. This results in brighter lines, finishing fields 4 times faster and using up to 50% less paint. Graco high pressure, airless grass stripers use gas, electric, or battery power to tackle any field marking application – from small sport clubs to the biggest professional teams.
Filters:
Type: Walk-Behind Line Striper
Clear all
FieldLazer high pressure airless technology operates at over 10 times the pressure of competitive, low pressure models. The result is lower paint consumption and professional, bright lines.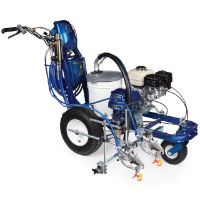 Graco LineLazer products are ideal for larger athletic field striping applications requiring accuracy and high productivity. Choose from the quiet electric power of our EPower Series to the everyday reliability of our Standard Series or the added speed and productivity of our HP Automatic Series.
Have Questions? Let's Talk.
Call Support
Email Support
Find a Distributor
For local sales and service support