Waterproofing Sprayers
Graco's waterproofing sprayers spray a broad range of materials to prevent moisture from penetrating residential foundations and concrete structures. From high performance and versatility in a single package or turnkey systems for high volume applications, we have a waterproofing tool and waterproofing spray machine to meet your needs.
DESIGNED FOR HOME FOUNDATIONS & ALL PRECAST CONCRETE
VERSATILE & POWERFUL
---
A Range of Waterproofing Sprayers for All Applications
For the contractor looking for portability, Graco builds sprayers that offer the convenience of a portable machine, but with the power of a stationary system. For the high volume, industrial contractor, we provide innovative, polyurea waterproofing tools designed to improve your bottom line. Power options cover the gamut: gas, electric, gas hydraulic, air-driven and diesel.
HIGH FLOW RATES, MANY POWER OPTIONS
---
ACHIEVE HEAVY COVERAGE USING MULTIPLE MATERIALS
Many power types
With waterproofing projects, you're typically working in a wide range of environments and conditions. You might have power or it may not be the right voltage. The good news is there's a Graco waterproofing sprayer designed to operate in any environment. Choose from multiple power options: gas or diesel engines, electric, gas hydraulic or air driven.
Spray a wide range of material
Some materials are seemingly impossible to spray, but with Graco waterproofing sprayers and waterproofing tools, you've got high pressure and the power to spray even the most viscous waterproof coatings.
High Flow Rates for Heavier Coverage
Built-in versatility gives you the option to achieve high flow rates for applying heavy coverage whenever it's needed. With this capability, your productivity will soar on large, heavy duty jobs.
Browse Waterproofing Sprayers
Filter results
---
Type
---
Filters
Filters:
Type: Spray Gun
Clear all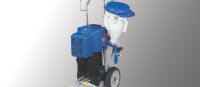 Graco's FastFinish Texture Sprayers are engineered to deliver exceptional professional texture finishes 6 times faster than typical gravity hopper guns, drastically reducing job time, while still providing a high quality spray.
Have Questions? Let's Talk.
Call Support
Email Support
Find a Distributor
For local sales and service support