Spray Foam Equipment
For manufacturers searching for the best in polyurethane foam equipment, Graco has engineered a full line of professional spray foam tools. From portable and touch-up systems to mid-production systems to turnkey spray foam systems, you'll find the perfect match for your needs. We have your industrial applications covered with our industry-leading spray foam insulation machines, including foam guns and ratio control systems. Our systems are available in air, electric or hydraulic configurations.
Spray Foam Equipment Designed for Modern Manufacturing
Industry-Leading Foam Equipment
---
Why Use Graco Spray Foam Equipment?
A diverse range of manufacturers turn to Graco's polyurethane spray foam equipment for form fill applications. The equipment is ideal for all rigid and flexible foam applications, like boat hulls, buses and truck trailers.
Browse Spray Foam Equipment
Filter results
---
Type
---
Pressure Type
---
Filters
In:Pulse provides real-time volumetric ratio control. Throughout the day, as the ratio mix changes due to ambient conditions, tank pressures, nitrogen pressures, etc., In:Pulse will self-adjust to ensure on-ratio spray – every time.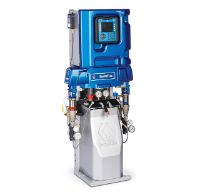 Reactor is the brand professionals have trusted for over two decades. Ranging from: turnkey/complete systems; high-mid production; entry level and portable/touch up systems. We have the sprayer to meet your needs.
Have Questions? Let's Talk.
Contact an expert
We'll help you choose the right product for your job.
Tech Support
E-mail Support