Blasting vessel without damaging the wood
Malakoff Limited, a leading engineering and fabrication contractor was originally established as a marine engineering company in 1924 in the Shetland Islands,  a subarctic archipelago belonging to Scotland.
Based in Lerwick, Shetland, Malakoff provides a comprehensive range of services for the oil & gas, utilities and renewables sectors.


Revolutionary alternative
Malakoff recently completed the blasting and painting of the hull – both above and below the waterline – of the whitefish trawler FV Devotion. This 22.85 meters long, 7.00-meter beam vessel was originally constructed in 1993 from larch on oak. Due to its wooden construction, conventional sandblasting was not possible, but thanks to the vapour blasting of EcoQuip 2, the entire hull could be stripped back to bare wood with no damage.


EXPANDING SERVICES
The Graco EcoQuip 2 vapour blaster was purchased from Fluid Technologies Ltd and has proved an invaluable asset to the Malakoff blasting service. It has enabled Malakoff to add a new service to its capabilities: the complete removal of foul from wooden-hulled vessels, a process that has been traditionally difficult and uneconomic. The flexibility of the EcoQuip 2 also allowed it to be used to blast the steel sheathing for a complete finish.


Why vapour abrasive blasting?
The difference between vapour abrasive blasting and sandblasting is the use of water. There's nothing new about wet abrasive blasting; it's been around since 1941. However, the process was never perfected. Graco has taken an existing technology and greatly improved it. 
Graco's new developments in wet and vapour abrasive blast technologies include increasing production rates to decrease water consumption; optimizing the air, water and media ratio for optimal performance; and achieving the same profile compared to traditional blasting methods.
In a nutshell, Graco's approach to vapour abrasive blasting involves adding water simultaneously with the abrasive media in a pressure pot. The abrasive becomes suspended in water, and the mixture is then projected at high velocity by a forceful flow of compressed air.
By encapsulating each blast particle with water, extra weight is added to the media which enlarges the impact of the blast media on the substrate. In addition, the removal and feathering of the material goes smoother and less media is used. The water reduces splash back and traps the dust being produced.


Less dust: it's proven
Graco's vapour abrasive blast equipment is sold under the name EcoQuip. It provides a performance equivalent to sandblasting but with 92% less dust, thus minimizing the need for PPE, tenting and containment, and decreasing environmental impact. It uses up to 75% less blast media and far less water than wet blasting, and creates little run-off, thus there is no large slurry mess to clean-up and dispose. It's effective in rain and high humidity, and efficiently removes coatings without damaging the sub-surface. The bottom line is that EcoQuip reduces project costs while increasing the speed, efficiency and productivity of blasting. 
EcoQuip's reduced dust production has been proved by a 3-day study conducted by Applied Environmental Sciences, Inc. It compared airborne particulate concentrations produced by vapour abrasive blasting versus dry abrasive blasting.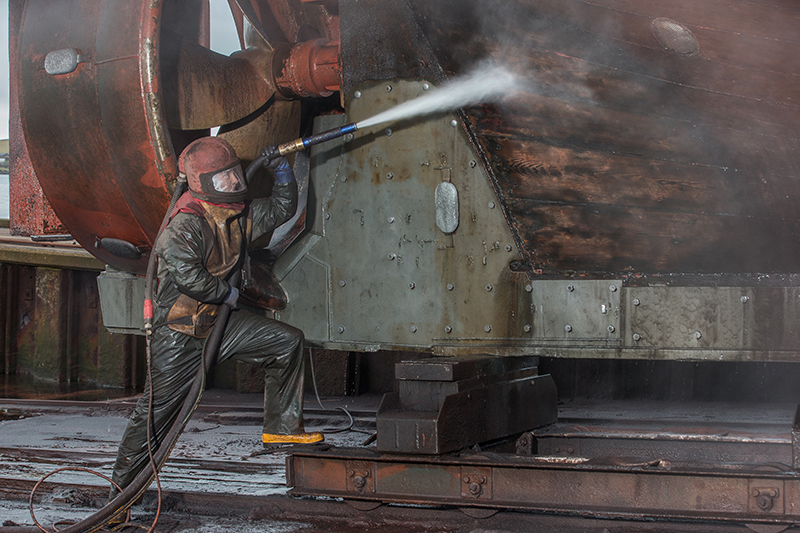 Over the course of the three days, multiple air samples were collected in the vicinity of the Graco EcoQuip EQ 300S vapour abrasive blasting machine and a commonly used competitor's dry blasting machine. The study was designed to collect triplicate airborne dust samples during multiple, randomly ordered runs using all possible combinations of the two abrasive blasting machines, three different blasting media (garnet, glass bead and coal slag) and one blasting target (a steel plate). Samples were submitted to an accredited laboratory for analysis of total airborne particulate concentrations. 
The results show that average airborne particulate concentrations were lower when using the EcoQuip vapour abrasive blasting equipment than those produced by the competitor's dry blasting equipment. In the case of garnet and coal slag blasting media, reductions in weight of total airborne particulates generated were 91% and 92% respectively, compared to the competitor's machine. When using the glass bead abrasive medium, the EcoQuip yielded a 71% reduction in airborne dust. These numbers support the claim that a substantial portion of the cloud observed when using the EcoQuip equipment is, in fact, water mist.


A STEP UP: ECOQUIP 2
Graco's EcoQuip 2 range includes more models to extend the ease of use, overall power and application range. EcoQuip 2 can be used for concrete repair, coating removal, steel surface preparation and graffiti removal. The versatility of EcoQuip 2 means it's easy to switch from one application to another. EcoQuip 2 is designed to accept any media heavier than water and has a blast rating of up to 12 bar (175 PSI). With EcoQuip 2, contractors are no longer limited to just one or two types of jobs. For example, instead of focusing solely on steel surface preparation, a contractor can now expand his business into the concrete repair or restoration market using the same equipment.


MORE INFORMATION
For more information about vapour abrasive blasting solutions or EcoQuip, fill out the form below.