WHY AIRLESS SPRAYING
TRUE AIRLESS PAINT SPRAYERS FROM GRACO
Airless technology makes painting faster, better and easier. You will see a visible difference in the finish quality using an airless sprayer, and you will not be spending time cleaning brushes and rollers.
 
With TrueAirless™ technology from Graco, you will be able to spray from 110 up to 207 bar, depending on the paint viscosity. This is possible thanks to the powerful piston pump that comes with every Graco paint sprayer, including the Magnum range. The high pressure allows you to spray a wider range of products undiluted.
The result is a perfect application quality for decorative paints and thicker products, as well as a significant reduction of overspray and tailing.
Some paints, such as decorative ones, can easily be applied at 110 bar, but thicker products need to have additional pressure. A paint sprayer that can go up to 207 bar will prevent you from diluting and will also allow you to make the most of our many accessories that often require extra pressure.
Once you experience the time savings and quality of finish provided by a Magnum airless paint sprayer, you will never want to tackle another painting project using anything but Magnum.

FASTER
Airless spraying is the fastest spraying technique. The speed of application is up to 15 times faster compared to using a brush, a roller or spray equipment with low pressure (HVLP) technology.
The real advantage is that there is no friction with the wall when you are spraying, like when you would be using a roller. This means you can easily apply your second coat even before the first one is dry, saving time yet again.

BETTER
Whether you want to paint a radiator, a door, a wall, a ceiling or a complete house, just choose the right sprayer for the application and you will obtain a consistent and professional finish quality.
Airless spray equipment does not leave brush marks or roller stipples. Because the paint is truly atomised, it provides a very uniform appearance, which offers an important advantage, especially for interior work.
The TrueAirless tips with exclusive SoftSpray technology will provide you with smoother spray patterns and less overspray, delivering a superior paint finish.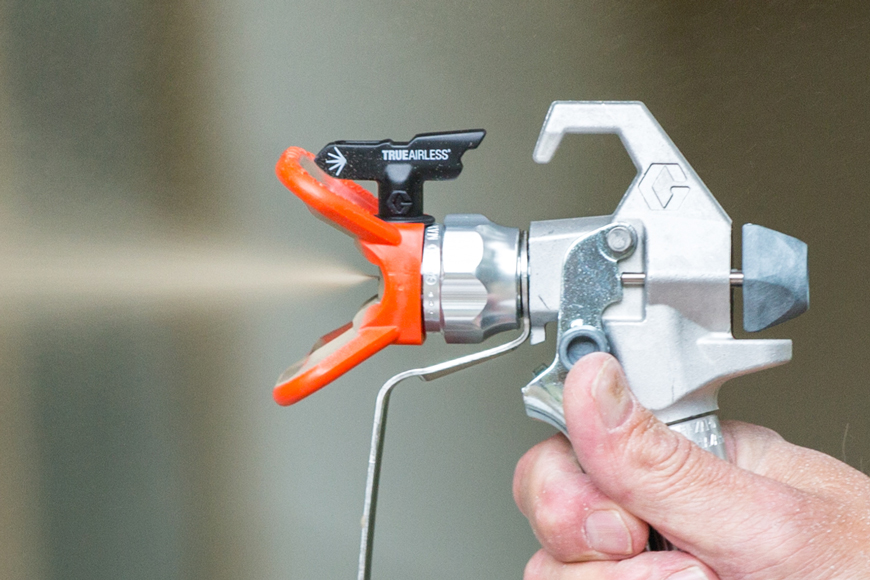 EASIER
Magnum airless paint sprayers are easy to use, clean and maintain. Just have a look at our instruction manuals and videos that show you how to use the machines.
Not only are the airless sprayers handy and practical; they are also extremely comfortable. Your arm does not have to support the weight of the paint. Instead, the gun is light and you can even use a tip extension to paint a ceiling, without having to step on a ladder.
Now that you realise airless technology can make your paint jobs a whole lot easier, better and faster – you will already recognize the number of versatile applications you can use your paint sprayer for. Start using your Magnum paint sprayer to paint walls, ceilings and floors, wooden terraces, cottages, garden sheds and wooden houses as well as executing façade and exterior paint jobs. The painting possibilities are endless…
Feel free to consult our instruction manuals and videos to learn more.