Auto Lube Accessories
Graco offers extensive auto lube accessories designed to complement the capabilities of our industrial automatic lubrication systems. Accessories include a broad range of components including lubrication switches, filters, brushes, valves, gauges and hose & fittings. All designed to complete a comprehensive system for machinery in areas of machine tooling, bottling lines, machining, form pressing or general industry needs.
TAILOR YOUR LUBRICATION SYSTEM TO MEET YOUR PRODUCTION NEEDS
HIGHEST QUALITY STANDARDS
---
EVERYTHING WORKS TOGETHER: VALVES, INDICATORS, SWITCHES, FILTERS, BRUSHES, HOSES & FITTINGS AND HARDWARE
Ensure your auto lube system meets your specific application requirements with our extensive catalogue of system accessories. Simply choose the accessories you will need to configure your system to your operating requirements. When you outfit your machinery with automatic lubrication systems and related accessories, you will benefit from reduced downtime and overall lower maintenance costs.
DESIGNED FOR ABSOLUTE PRODUCT-LINE COMPATIBILITY
---
ENHANCE YOUR AUTO LUBE SYSTEMS WITH AUTHENTIC GRACO ACCESSORIES
Accessories That Are Built to Last
Since Graco accessories are built to the same exact standards as all our products, expect them to operate reliably in the tough and harsh environments you work in daily. You expect maximum uptime; and, rest assured your Graco accessories will hold to that same level of expectation.
Maximize System Compatibility by Choosing Graco-Brand Accessories
You'll maximise the performance of your automatic lubrication system by pairing it with authentic Graco accessories over aftermarket components. You can be sure Graco parts and accessories are manufactured to meet or exceed operating specifications.
Browse Auto Lube Accessories
Filter results
---
Application
---
Filters
Filters:
Type: High Pressure
Clear all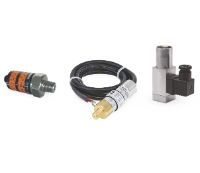 Graco's durable and easily adjustable pressure switches allow clear detection of pressure changes in an automatic lubrication system. These pressure switches handle harsh environments demanded by the applications.
Do You Have Product Questions?
Technical Support
+32 89 770 847
Monday - Friday
8:30 - 17:00 CET
General Support
+32 89 770 865
Monday - Friday
8:30 - 17:00 CET