Setting new standards in 2K mixing
Graco Introduces ProMix™ PD2K Positive Displacement Proportioner
Saves Customers up to 80% in Solvent and Mixed Material Waste

Graco introduces a new positive displacement proportioner, the ProMix PD2K. This breakthrough "State of the Art" proportioner mixes materials physically closer to the gun so the flush zone is significantly smaller than traditional systems. This allows end-users to use less paint, while reducing disposal costs. At the same time, it facilitates faster colour changes. Since the ProMix PD2k reduces the amount of mixed material in the system, it works well for short pot-life materials. It is also compatible with acid-based materials.

Exciting new technology

"The ProMix PD2K is an exciting new technology," said Marc Gijbels, Senior Product Marketing Manager for EMEA. "Our customers were looking for ways to increase efficiency in their plants. By moving the mixing point closer to the gun, it is possible to reduce solvent use and mixed material waste by up to 80 percent compared to traditional electronic proportioners." This makes the system more environment-friendly, as we can reduce the amount of mixed materials and solvents which consequently also reduce the VOC (Volatile Organic Compounds) emission levels.

The ProMix PD2K can run at very low flow rates thanks to its unique dose pump technology. Fluid flow rates and pressure levels are very stable and easy to control. With this feature on board, flow meters and / or fluid regulators are no longer required.

The ProMix PD2K Proportioner was developed using 100 percent positive displacement technology that produces accurate mix ratios (within 1 percent accuracy) and more consistent pump performance. As the ProMix PD2K can be equipped with either two or four dosing pumps, it can manage up to 30 colours and four catalysts. It also allows customers to proportion both epoxy and urethane using one system, rather than using multiple units to achieve the same result.

Very easy to set-up and maintain

"This proportioner is very easy to set up and maintain. It handles various inbound pressures and viscosities without touchy fine-tuning," said Gijbels. "And unlike gear pumps, the ProMix PD2K has positive displacement precision dosing pumps that do not require factory rebuilds and can be serviced in the field in less than 20 minutes."

Visionary New Product Award

The ProMix PD2K was awarded the Visionary New Product Award by the Association of Woodworking & Furnishings Suppliers (AWFS) at the AWFS Fair in July in the US. The award recognized Graco for its product innovation, quality and ingenuity in the Green/Environmental Category for its new ProMix PD2K Positive Displacement Proportioner. Winners were selected from 65 entries submitted by 48 companies.

Every other year, the AWFS® Visionary New Product Awards recognize creativity and innovation as well as leadership in green/environmental product development. Entries are evaluated on quality, production impact, practicality, innovation and user-friendliness. The panel of hand-selected judges represents various areas of the industry, including professional end-users, woodworkers and company owners.

The Visionary New Product Awards categories are:

Product Innovation
Productivity
Green/Environmental
Ergonomics/Safety

"I wanted the award to represent great visionaries throughout history, artists and inventors who saw beyond what was and offered the world ideas that changed it dramatically for the better. The people and companies who have entered these ideas are also visionaries, in their own right, and the products they've conceptualized and produced can have a tremendous impact on our industry. That is what the essence of this award is all about." said Archie Thompson from Spectrum Adhesives, the awards designer and current vice president of the AWFS board of directors.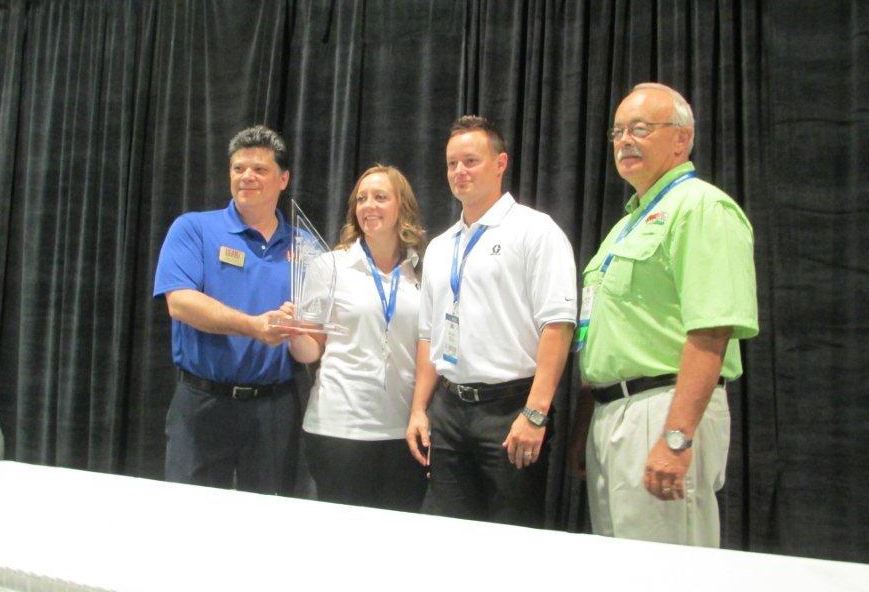 By introducing this new high-tech electronic 2K proportioner, Graco again shows its capability of developing new 2K-3K proportioning technologies. This newly developed system does not replace the current standard 2K proportioners, but expands Graco's current line of 2K proportioners for finishing applications.