OSHA's Silica Rule: Part 1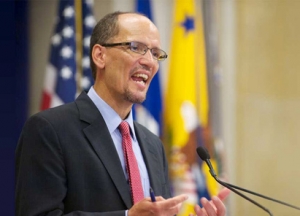 U.S. Secretary of Labor Thomas E. Perez announced the final Silica Rule on March 24, 2016.
A New Standard For Crystalline Silica Exposure
A battle is brewing between the Department of Labor's Occupational Safety and Health Administration (OSHA) and trade organizations over OSHA's new Silica Rule, which took effect June 23, 2016.
The rule slashes the permissible exposure limit (PEL) to respirable crystalline silica by 50% for general industry and maritime, and by 80% for the construction industry.
What is crystalline silica? According to OSHA, "Crystalline silica is a basic component of soil, sand, granite, and many other minerals. Quartz is the most common form of crystalline silica. Cristobalite and tridymite are two other forms of crystalline silica. All three forms may become respirable size particles when workers chip, cut, drill, or grind objects that contain crystalline silica."
What is the danger? Silica crystals cleave into sharp points, and when inhaled cause potentially fatal scarring and stiffening of the lungs, and increased risk of lung cancer, non-malignant respiratory diseases and renal disease.

Why is this important? Silica exposure remains a serious threat to nearly 2 million U.S. workers, including more than 100,000 workers in high risk jobs such as abrasive blasting, foundry work, stonecutting, rock drilling, quarry work and tunneling. The seriousness of the health hazards associated with silica exposure is demonstrated by the fatalities and disabling illnesses that continue to occur in sandblasters and rock drillers.
Learn more about crystalline silica exposure in this OSHA fact sheet.
How does this affect your business?
According to OSHA, the Silica Rule establishes a permissible exposure limit (PEL) for respirable crystalline silica of 50 μg/m3 as an 8-hour time-weighted average (TWA) in all industries covered by the rule. It requires engineering and work practice controls to suppress dust, namely wet methods, ventilation, and vacuuming. When these controls are inadequate to meet the PEL, respirators shall be provided.
In addition, it says that employers are required to:
Conduct initial assessments to determine exposure levels for jobs.
Sample every three months for employees with exposure levels above the PEL, and every 6 months for employees above the 25 μg/m3 Action Level (AL).
Provide medical exams every three years to employees exposed at or above the AL for thirty days or more per year.
Restrict access to areas above the PEL, produce a written exposure control plan, and train employees about the dangers of exposure to silica dust.

Acknowledging that construction tasks seldom occur in one place, OSHA specifies engineering controls and work practices for 18 silica-producing construction tasks which employees can follow in lieu of meeting the PEL.
Timeline: OSHA and exposure limits
1970
OSHA is founded and quickly issues "start-up standards" for a number of hazardous materials, with the intention of updating the exposure limits when scientific evidence comes in.
 
1974
The National Institute for Occupational Safety and Health (NIOSH) completed its studies and recommended reducing the exposure limits to the level eventually adopted in the new Silica Rule.
 
1981
During the Carter administration, OSHA ignored silica, concentrating their efforts on cancer prevention.
 
1989
The Reagan administration acted with two days left in the second term, setting sweeping standards for 428 airborne contaminants. Both industry and labor groups challenged the rule-making processes and results in court.
1993
To settle the matter, the George H. W. Bush administration proposed a single silica standard for all industry at 100 μg/m3., but when the courts struck down the Reagan-era rule, OSHA was forced "to return to the original 1971 PELs for all compounds, including silica."
 
1996
Bill Clinton's OSHA chief Robert Reich pledged to eliminate silicosis, but didn't begin hearings until 1999.

2009
During the George W. Bush administration, OSHA concluded the Small Business Advocacy Review Panel, but got hung up on the peer-reviewed risk assessament and economic feasibility analysis.
2013
Silicosis resulted in 46,000 deaths worldwide, nearly double the number of deaths from asbestosis. In August 2013, OSHA published a proposed silica rule on its website. Over the next 18 months, lawmakers reviewed comments and received testimony from over 200 stakeholders representing more than 70 organizations.
2016
On March 25, 2016, the Final Silica Rule appears in the Federal Register and takes effect June 23, 2016. "This new, lower limit can be achieved using practical, common controls – like wetting down the dust or improving ventilation – to limit exposure," said Secretary of Labor Thomas E. Perez.
Making Sure Your Business Is Compliant
Part 2: OSHA's Silica Rule and Wet Abrasive Blasting
When the silicosis issue came out, the United Kingdom's answer was to ban sandblasting outright, which led to the invention of wet abrasive blasting. Over the years, wet blasting has had all sorts of bad connotations. Today, however, there are innovative options that are in between dry and wet abrasive blasting that allow you to control the amount of water in the blast to achieve the same results as dry blasting, but with a lot less dust. The article will explore Graco's EcoQuip 2 vapor abrasive blasting equipment and how that will help your business achieve OSHA's silica rule.
Part 2: OSHA's Silica Rule and Wet Abrasive Blasting
By Cameron | November 8th, 2016
Have Questions? Let's Talk.
Contact an Expert
We'll help you choose the right product for your job.
Tech Support
Monday-Friday
7:30 a.m.-5 p.m. Central Time
Email Support