Grease Dispense Meters & Valves
Graco's grease dispense meters and valves are designed for numerous applications including lube trucks and service facilities. Operators and technicians use Graco dispense meters and valves for their durability, high-performance and long-lasting build quality. Our grease control valves and dispensers are extremely versatile, designed to hold up in demanding applications.
MANUAL GREASE DISPENSERS FOR HEAVY EQUIPMENT LUBRICATION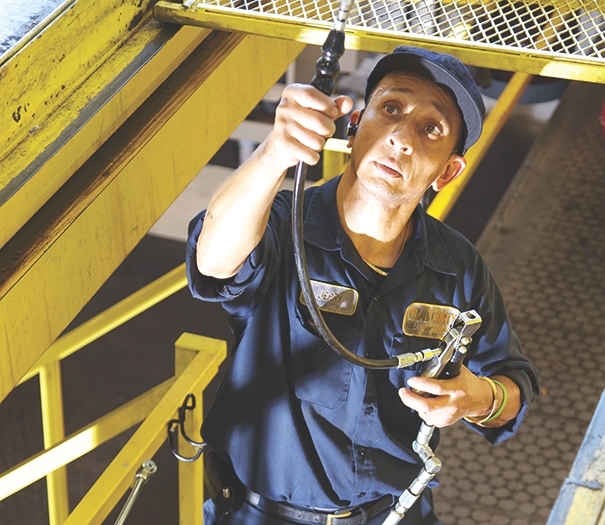 RUGGED GREASE VALVES
---
Graco's durable and reliable grease dispensers won't quit on the job. We engineer each for superior performance.
UNMATCHED PERFORMANCE
---
The Industry's Trusted Grease Dispense Valves
Built-to-Last, Rugged Meters & Valves
Heavy equipment requires built-to-last components that can operate in harsh outdoor conditions while servicing construction, agriculture and mining equipment. Graco grease valves last longer and perform better.
Metered and Non-Metered Valve Options
Graco offers metered and non-metered grease valves. Both options provide superior performance and less operator fatigue.
A Versatile Family of Dispensers and Valves
Since 1926 we've been perfecting our family of grease dispense meters and valves. With both electronic and mechanical models to choose from, pick the perfect mix of grease guns -for your lube truck and service garage needs.
Browse Grease Dispense Meters & Valves
Filter results
---
Type
---
Valve Type
---
Inlet Size (in)
---
Maximum Working Pressure (psi)
---
Filters
Have Questions? Let's Talk.
Call Support
Monday–Friday
7:30 a.m.–5 p.m. Central Time
Email Support
Request a Quote
We'll help you choose the right product for your use.