Hose Reels
Managers choose Graco hose reels for bulk fluid transfer and dispensing for mobile lube trucks and service garages. These heavy-duty, retractable hose reels handle lubricating grease, petroleum and synthetic based oils, air, water and more. Additionally, our hose reels are built to deliver top performance in harsh, outdoor environments, which make them ideal for servicing heavy equipment like excavators, combines and off-highway mining trucks.
PRECISE FLUID DISPENSING ON THE JOB SITE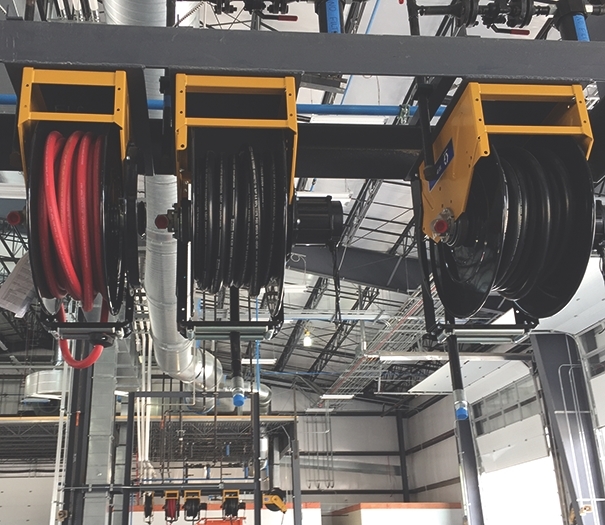 HIGH-QUALITY COMPONENTS
---
RUGGED HOSE REELS THAT LAST DECADES
Retractable hose reels are perfect solutions for mobile lubrication trucks and service facilities. Reels keep hoses out of the way when not in use. We build them for heavy use with high-quality components and parts, such as steel frames that won't bend or flex and strong springs that perform flawlessly under heavy use.
BE MORE PRODUCTIVE
---
HOSE REELS READY FOR WORK
Hose Reels Help Increase Productivity
With hose reels for oil and other fluids all within easy grasp, you'll move quickly while servicing your construction and agriculture equipment. In the process, you'll increase productivity.
Every Hose Reel Comes Pre-tested
Before it ends up in your service garage or on your lube truck, we test each hose reel, so you know it'll work right out of the box.
Built to Excel in Harsh Working Conditions
Construction and mining sites can punish equipment over time. That's why we develop our hose reels with long-lasting, high-quality components.
Filter results
---
Application
---
Type
---
Hose Length (ft)
---
Filters
Have Questions? Let's Talk.
Call Support
Monday–Friday
7:30 a.m.–5 p.m. Central Time
Email Support
Request a Quote
We'll help you choose the right product for your use.