Pneumatic Pressure Washers
Graco's heavy-duty pneumatic pressure washers are designed for hazardous location cleaning and surface prep. These washers can cut through some of the most difficult build-up in shipyards, oil rigs, and more. Our flexible air driven pressure washers handle a wide range of detergents and chemicals, as well as cold and hot water. Additionally, pressure washers feature durable piston pump technology that won't corrode with harsh chemicals.
FOR HAZARDOUS LOCATION CLEANING AND SURFACE PREP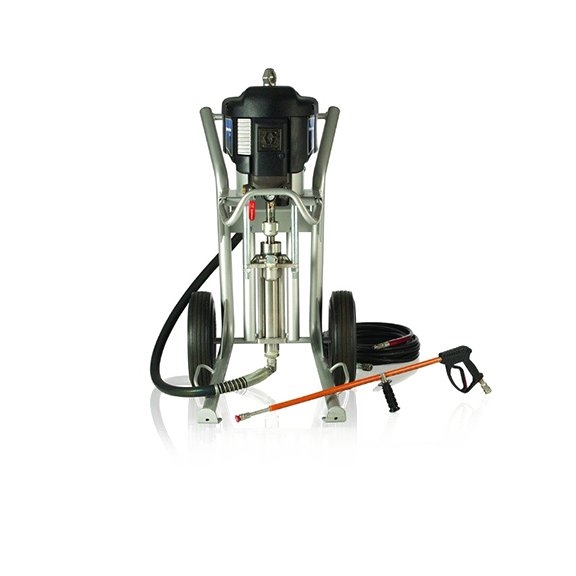 HIGH-PRESSURE CLEANING
---
YOUR HIGH PRESSURE CLEANING SOLUTION WHEN GAS OR ELECTRIC ISN'T AN OPTION
Graco's pneumatic pressure washers are designed for high pressure cleaning in extreme conditions. You'll find us in offshore oil rigs, shipyards, processing plants and more. Unlike many gas and electric pressure washers, our pneumatic pressure washers are designed to operate in hazardous locations.
QUICK, EASY, AND EFFICIENT CLEANING
---
PORTABLE, FLEXIBLE, RELIABLE: WHAT ELSE IS THERE?
Supports Multiple Wands
Pair your pneumatic pressure washer with a wide array of wand types and lengths. No matter your application, you'll find a wand that complements it.
High Pressure Spray Cleans Everything
With pressures as high as 4,000 PSI, you'll be challenged to find a surface that wouldn't be scrubbed clean by its power. Easily adjust the spray to the strength you need. Our washers will even remove barnacles and rust from ship hulls.
Compatible with Many Chemicals and Temperatures
With Graco's powerful pneumatic pressure washers you can use strong chemicals, detergents and abrasives, in addition to temperatures of up to 200 F. Ideal for hazardous location cleaning.
Browse Pneumatic Pressure Washers
Piston Pump Selector
Filter results
---
Maximum Working Pressure (psi)
---
Pump Type
---
Filters
Process
---
Try Before You Buy
Try Graco products for FREE before you buy! Select any configuration of the products below. No secret clauses. No hidden charges. Just guaranteed satisfaction. Simply return the equipment if you are not satisfied.
Participating products available for 60 day trial periods. Program only available in the United States and Canada.
Have Questions? Let's Talk.
Call Support
Monday–Friday
7:30 a.m.–5 p.m. Central Time
Email Support
Find a Distributor
For local sales and service support