Resin Transfer Molding (RTM) Systems
By integrating Graco resin transfer molding (RTM) systems into your manufacturing process, you can fabricate at higher speeds and at a lower cost. With low-pressure control, the problem of over pressurizing the mold is eliminated guaranteeing a quick, efficient fill without opening before the injection is complete. Graco's understanding and experience with resin transfer molding and has led to innovations and technologies to improve yield, reduce scrap and minimize cleaning times.
FABRICATE AT HIGHER SPEEDS & LOWER COSTS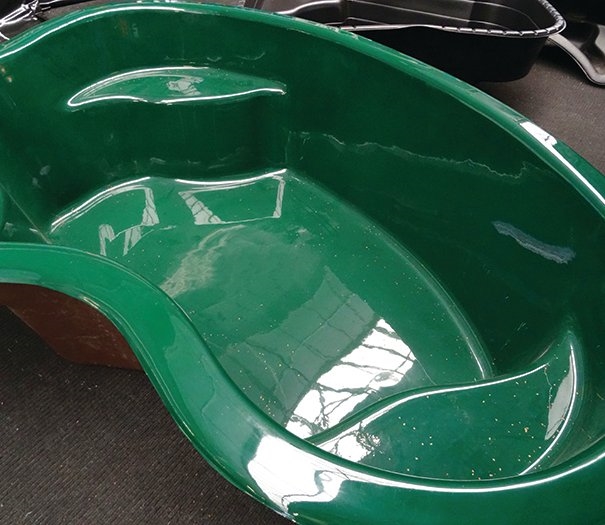 CONTROL AT LOW PRESSURE
---
LOWER MATERIAL WASTE AND EASIER CLEANING
Materials recirculation allows resin and catalyst to cycle up to the dispense head and back to containers un-mixed. As a result, pigments and fillers stay suspended in the resin - allowing the catalyst line to be de-gassed without wasting material. Material changeover is easy with a primary air purge and any remaining resin and catalyst cleaned with solvent. Operators are quickly ready for the next injection with minimal waste occurring during the process.
PRECISION ENGINEERING
---
MAXIMIZE PRODUCTION EFFICIENCY AND SAFETY
The Fastest Fill Times Possible
With the Accu-Pressure active sensor on the Graco resin transfer molding and injection systems, operators can set the maximum safe injection pressure which monitors the injection pressure at the mold sprue. The pressure does not exceed the set point so the mold is filled safely and completely in the quickest time possible.
Achieve Production Goals
To deliver maximum efficiency, Graco RTM technology allows core placement to maximize cycle times – even for difficult geometries. Molds are filled faster and operators are able to do it safely with lower emissions and an excellent part finish on both sides.
Complete Catalyst Control
An infinitely adjustable slave pump provides complete catalyst control (0.5%-3.5%) while the catalyst check valve maintains an excellent mix – even at low catalyst levels.
Browse Resin Transfer Molding (RTM) Systems
GET HELP FROM A LOCAL DEALER
Have Questions? Let's Talk.
Call Support
Monday–Friday
7 a.m.–4 p.m. Central Time
Email Support
Contact an Expert
We'll help you choose the right product for your use.