Market Dynamics and Macro Trends Shape Sustainable Manufacturing
The context for the new era of industrial electrification pushes manufacturers to seriously "go green."
Decades before becoming a major talking point around the globe, sustainability was suggested as a concept to help maintain our ideal planetary conditions by guarding against the misuse of resources and potential environmental decline.
Being a responsible corporate citizen has evolved to become a more formal initiative. Industrial manufacturers and their leadership now need to make a real commitment to energy transition as a way to increase system efficiency while decreasing emissions.
With each passing year, investors focus more on a company's sustainability as part of their analysis to identify material risks and growth opportunities. As a result, every manufacturing business must be mindful of growing sustainability concerns - and take them seriously if they are going to be a player in the 21st century.
The Sustainability Conversation Is Changing on Every Front
It's safe to say that sustainability initiatives have typically been driven by a desire to avoid fines and generate good publicity. Support for environmentalism was on everybody's priority list — unless it increased costs.
The intense new focus on green building standards and certification systems in both the public and private sectors is changing the narrative – and it's easy to see proof of the complicated relationship between sustainability and business outcomes. 

Top Sustainability Motivators Have Changed
In a 2021 global sustainability survey, respondents at value-creating companies said they address sustainability to align with their mission and values or to "make a tangible, positive impact on an issue." In a similar survey ten years earlier, they simply saw sustainability a way to lower costs and increase efficiency.

Consumer and investor trends are leading to more capital flowing toward companies that commit to real change. Corporate responsibility and environmental accountability now provide an attractive economic angle for companies looking to implement more responsible processes. 
The Economic Case for Energy Savings and Sustainability
Along with investor requirements and consumer behaviors, government agencies are making considerable investments in sustainability.
By 2030, the European Union (EU) will deploy more than €1 trillion in public and private investments as part of the Green New Deal.
By 2050, the United States plans to spend $5 trillion on the Climate and Environmental Justice Plan.
China already is spending trillions of dollars to achieve its stated goal of carbon neutrality by 2060.
Industrial Sector Greenhouse Gas Emissions
Manufacturers are also feeling pressure from consumers, investors, and regulators to right the ship of sustainability. And rightly so. According to the Environmental Protection Agency (EPA), about 23 percent of total greenhouse gas emissions can be attributed to industrial sector carbon dioxide (CO2) emissions.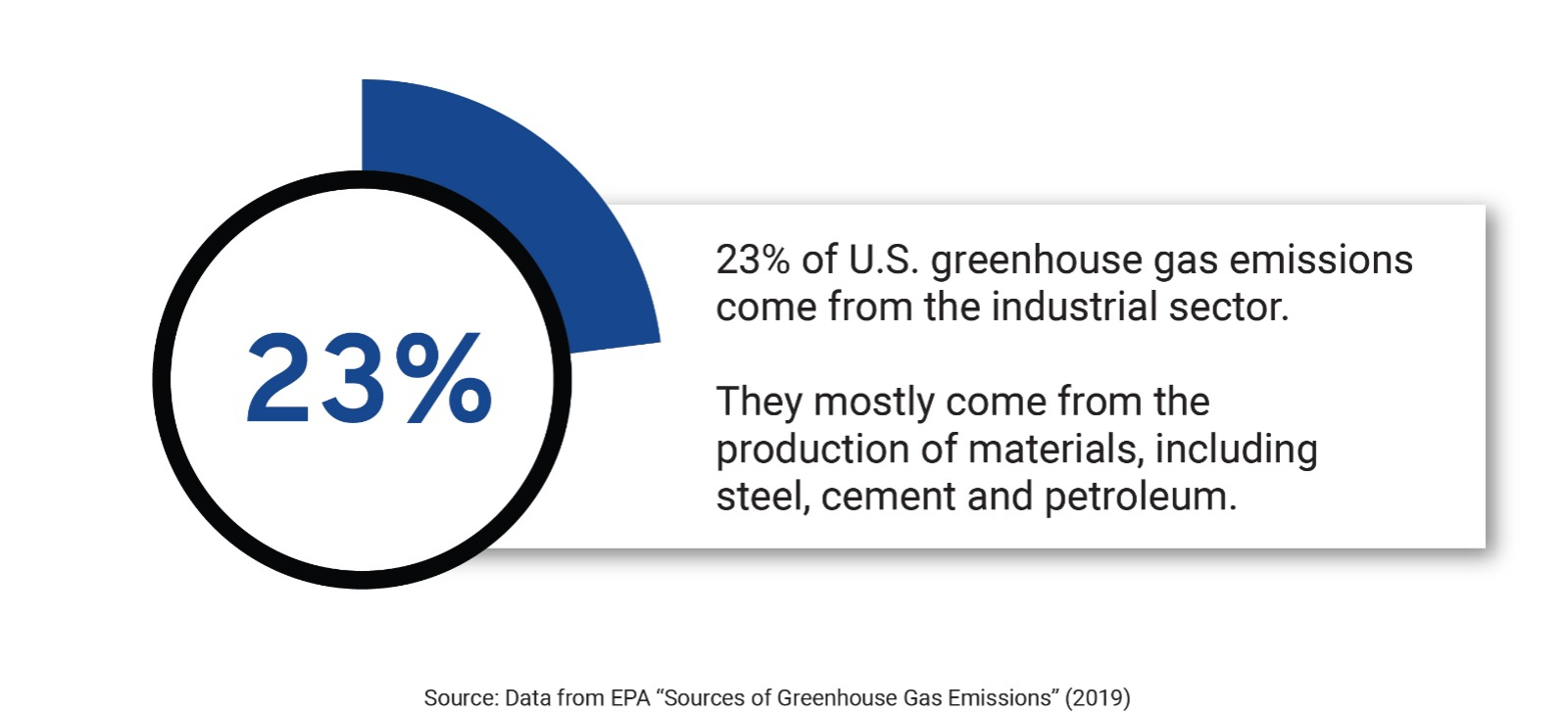 Industrial Electrification Targets
There are increasing financial and environmental benefits for factories to transition from dirty fossil fuels to electricity. Currently, about 20 percent of industrial sector energy consumed is electric. Electricity consumption will continue to grow due to these trends:
greenhouse gas emission regulations
low electricity prices
affordable electric-powered equipment
In fact, a recent Deloitte survey shows that industrial manufacturers are targeting nearly 45 percent electrification of their processes by 2035. Of these manufacturers, 75 percent are aiming to have 60 percent of their energy requirements to be from renewable sources in the same timeframe.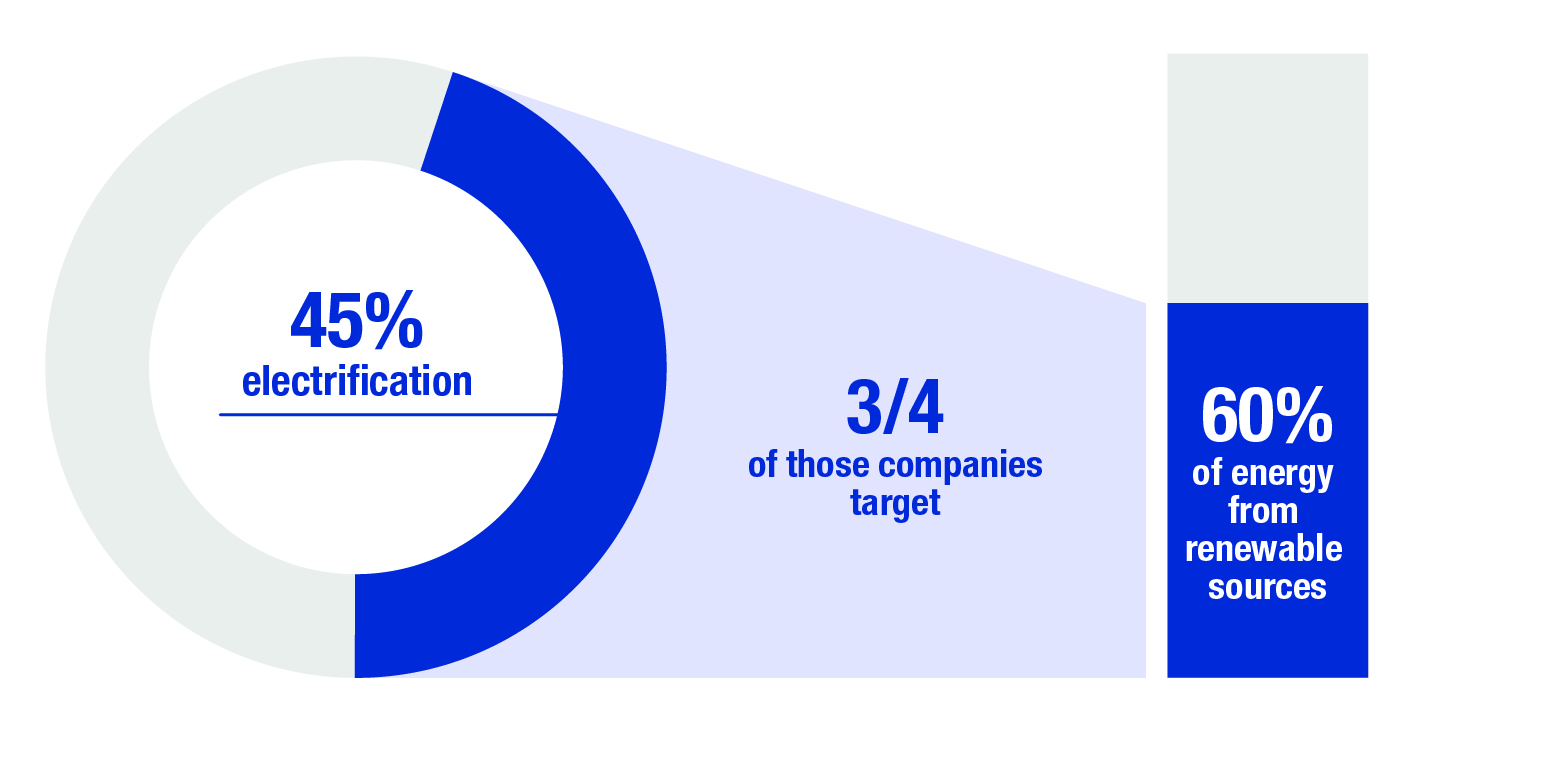 A recent McKinsey report indicated that almost 50 percent of the energy industrial companies source from fossil fuels could be replaced with electricity using technologies available today. In many cases, the electrification of an industrial process may not require a complicated setup. This can often be achieved by simply replacing a piece of pneumatic equipment with an electric alternative.
Electrification also provides opportunities for factories to take advantage of financial incentives from utility providers. Policy changes are driving new tax deductions, renewable energy credits and utility rebates. These changes can help minimize electrical upgrade costs. Understanding government incentive programs can also help you reduce your overall costs, while achieving a notable return on investment (ROI).
The support of policymakers and utility incentives send clear signals that the time has arrived for industrial manufacturers to plan and commit to the adoption of electric technologies. 
Automotive Industry Accelerating to Electrification
Electrification is probably the most evident in the automotive industry because of the meteoric rise of electric vehicles (EVs). A recent Reuters analysis revealed that by 2030, the world's 37 top automakers plan to:
spend $1.2 trillion on EV development and production. The investment includes batteries and raw materials needed for manufacturing.
make 54 million battery electric vehicles. The estimate signifies more than half of total automotive production worldwide.
As the automotive industry fast-tracks to meet EV demands, pressure for original equipment manufacturers to improve efficiency and flexibility also accelerates. As they update current factories or build new ones, OEMs are making a noticeable shift from pneumatic to electric equipment.
Upgrading to electric pumps, proportioners, and metering systems requires upfront investment — and speed is essential. Automakers need to move now to generate advantages that will allow them to achieve sustainability goals, please investors, and remain competitive as the EV market continues to expand.

Electrification Creates Value
With the major automotive manufacturers setting the pace for sustainable manufacturing, the case for the electrification of industrial processes continues to become more and more compelling.
Consumers and investors are selecting brands that prioritize environmental responsibility.
Policy makers and utility providers are offering manufacturers many incentives to reduce energy consumption and carbon emissions.
Governments are investing significantly in solutions that help meet global sustainability benchmarks.
According to McKinsey Quarterly, electrification creates financial value for companies in five distinct ways:
facilitating top-line growth
reducing costs
minimizing regulatory and legal interventions
increasing employee productivity
optimizing investment and capital expenditures
Economically, the question is no longer how do you figure out these emerging challenges — but how can you afford not to? Additionally, and maybe even more importantly, who can do it first — and who can do it best?
References: Ira Boudway, Bloomberg Hyperdrive, More Than Half of US Car Sales Will Be Electric by 2030; Nathaniel Bullard, Bloomberg Hyperdrive, Automakers Are Investing in EVs Like They Mean It; Heather Ashton, Kate Hardin, Stanley Porter, Paul Wellener, Deloitte Insights, Electrification in Industrials; Occo Roelofsen, Ken Somers, Eveline Speelman, Maaike Witteveen, McKinsey & Company, Plugging In: What Electrification Can Do for Industry; Anna Granskog, Eric Hannon, Solveigh Hieronimus, Marie Klaeyle, Angela Winkle, McKinsey & Company, How Companies Capture the Value of Sustainability: Survey Findings; Markus Forsgren, Erik Östgren, Andreas Tschiesner, McKinsey & Company, Harnessing Momentum for Electrification in Heavy Machinery and Equipment; Witold Henisz, Tim Koller, Robin Nuttall, McKinsey Quarterly, Five Ways That ESG Creates Value; Kathryne Cleary, Resources for the Future, Electrification 101; Paul Lienert, Reuters, Automakers to Double Spending on EVs, Batteries to $1.2 trillion by 2030; Paul Lienert, Reuters Graphics, A Reuters analysis of 37 global automakers found that they plan to invest nearly $1.2 trillion in electric vehicles and batteries through 2030
CONTACT AN ELECTRIFICATION SOLUTIONS EXPERT
Electrification isn't just about cutting your carbon footprint or energy bills; it brings innovation and profit to manufacturers like you. Need help charting a sustainable manufacturing path? Contact us.