How To Paint a Room Quickly and Easily Using a Paint Sprayer
One of the quickest ways to paint a room is using an airless paint sprayer. With a Graco sprayer, you can change the look of any room in the house in a fraction of the time it would take you to paint it by hand with a roller or brush.
Safety Notice: Whenever operating spray equipment, take proper safety precautions, stay alert and be mindful of potential hazards. Wear protective gear such as gloves, safety glasses/goggles, spray sock (hood), hat, proper footwear, dust masks and respirators. Make sure there is adequate ventilation. If you're painting in the vicinity of appliances, turn them off. (See Safety Precautions in your Sprayer Operation Manual.) Always refer to the specific instructions and safety procedures for the spray equipment you are using.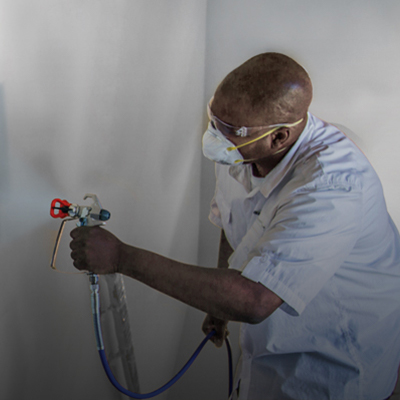 WATCH: How to Paint Interior Walls (3:58)
Suggested Tools & Equipment
Graco, Magnum, or TrueCoat Paint Sprayer (visit Paint Sprayer category page to compare models)
Paint
Spray tips – a narrow 15 or 20 cm (6 or 8 inch) spray fan typically works best
Empty buckets for priming sprayer and clean up (two needed)
Stirring sticks
Paint strainer bag – helps prevent tip plugs and provides a better finish
Tarps, drop cloths, or plastic sheeting
Masking tape
Paint brush for touch-ups
Magnum tip extension (optional) – for hard-to-reach areas that would otherwise require a ladder
Pressure roller kit (optional)
Spray shield
Pump Armor storage fluid (see pump protectant product details)
Cleaning rags
Stiff nylon brushes for clean up
Move as much of the furniture out of the room as possible. Move any remaining furniture to the centre of the room and cover it completely. Allow plenty of space for your tools and equipment.
Cover everything you don't want to get paint on. Apply masking tape and protective paper around and over doors, windows and trim.
Turn off the electricity to the room and remove cover plates from electrical fixtures, outlets and switches. Remove heating and air conditioning vent covers. Apply masking tape over the remaining switches and outlet receptacles.
Use spackling compound and a putty knife to fill in all nail and screw holes. Once dry, sand any rough areas.
Tip: If you're working in a small room or would rather not spray, use a Graco Pressure Roller Kit for great results and time savings.
Select the spray tip that's best suited for the paint you are using and the surface to be sprayed. Be sure the tip's hole size does not exceed the maximum capacity of your sprayer (see spray tip info). If you're using paint from multiple containers, mix it together in an empty 20 litre container to ensure consistent colour even if small colour differences exist between individual paint cans.
Start at the top of the room and work your way down. Work in sections, only as far as you can comfortably reach. Spray the outer edges first, "banding" the area that you will spray and cutting in any corners. For inside corners, aim the spray tip directly into the corner so it overlaps both sides.
Cut in around windows and doors first, and then spray the remaining flat areas using overlapping strokes. Make repeated spray passes down the walls, pointing the spray tip at the edge of the previous pass and overlapping by approximately 50%.
Allow significant time for the paint to dry before removing tape from your trim. This will result in crisp, clean lines.
Remove all coverings from furniture and other areas.
Replace any lighting fixtures that you removed and move furniture or other items back into place.
Clean your airless paint sprayer after each use. Follow the directions in your user's manual for Power Flush cleaning with water based materials or use the bucket method of cleaning if applicable. For more information, see Power Flush Video or refer to your Sprayer Operation Manual.
Move furniture or other items back into place.
Have Questions? Let's Talk.
Call Support
Monday - Friday 
7.30 a.m. - 5.30 p.m.  (AEST)
Email Support
Find a Retailer
Get help choosing the right product for your projects.