How to paint outdoor furniture using a paint sprayer
Whether it's a flea market find or an Adirondack chair you already own, a fresh coat of paint can give new life to outdated or tired-looking furniture.
Safety notice: Whenever operating spray equipment, take proper safety precautions, stay alert, and be mindful of potential hazards. Wear protective gear such as gloves, safety glasses/goggles, spray sock (hood), hat, proper footwear, dust masks and respirators. Make sure there is adequate ventilation. If you're painting in the vicinity of appliances, turn them off. (See Safety Precautions in your Sprayer Operation Manual.) Always refer to the specific instructions and safety procedures for the spray equipment you are using.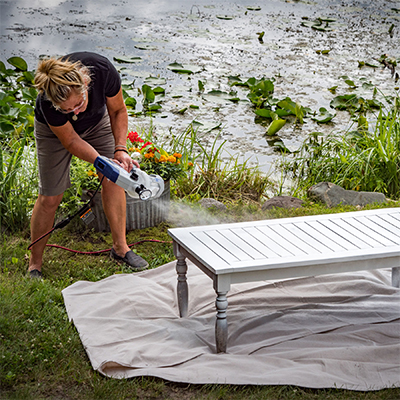 WATCH: How to spray furniture (0:43)

Suggested tools & equipment
Magnum by Graco paint sprayer (visit Paint Sprayer category page to compare models)
Paint/Stain
Spray tips – a wider spray pattern for large surfaces and narrow size for smaller surfaces
Empty buckets for priming sprayer and cleanup (two needed)
Stir sticks
Sandpaper—100-300 grit
Tack cloth
Paint strainer bag, if available – helps prevent tip plugs and provides a better finish
Tarps, drop cloths, or plastic sheeting
Masking tape
Paint brush for touch-ups
Pump Armor storage fluid (see pump protectant product details)
Cleaning rags
Stiff nylon brushes for cleanup
Establish a work area away from other surfaces onto which overspray could land, and cover the grass or pavement of that area with tarps or drop cloths.
Set the furniture on the drop cloth and remove any hardware.
Thoroughly clean the furniture using either a scrubbing sponge and a cleaning agent or a pressure washer outfitted with its low-power washing nozzle. Rinse thoroughly and allow to dry.
Repair any cracks or damage. Fill any holes with putty as needed, and then lightly sand the entire surface. Start with 100-grit sandpaper to remove any loose paint, and increase to 300-grit to smooth the surface and increase paint adhesion. Finally, wipe down the furniture piece with a tack cloth to remove any sanding dust.
Select the spray tip that's best suited for the paint or stain you are using and the surface to be sprayed. In general, a tip with a narrower 8-inch-(20 cm) wide spray pattern and a .013 hole size will give you the best control. Be sure the tip's hole size does not exceed the maximum capacity of your sprayer (see manual).
If you're using paint from multiple containers, mix it together in an empty 10-litre container to ensure consistent color even if small color differences exist between individual paint cans. When spraying lighter materials like stains, select the lowest pressure setting that enables you to maintain a good spray pattern. Lower pressure settings will give you better control a finer finish. 
Work from the top down, spraying in long, even strokes and going with the grain of the wood. Keep the spray tip about 12 inches (30 cm) from the surface you're spraying. Pay particular attention when spraying into narrow spaces such as between boards, and overlap each successive spray pass by approximately 50%. 
Allow significant time for the paint or stain to dry; then remove all coverings from shrubs, bushes, plants and surfaces.
Replace any hardware that you've removed.
Replace any lighting fixtures that you removed and move furniture or other items back into place.
Clean your airless paint sprayer after each use. Follow the directions in your user's manual for Power Flush cleaning with water based materials or use the bucket method of cleaning if applicable. For more information, refer to your Sprayer Operation Manual.
Looking for more videos to watch?
Check out our Education Centre with videos that cover product preparation, start-up and clean-up tips, spraying advice, troubleshooting and much more.
Do you have any product questions?
General support
We are here to answer questions and help address your needs.
Register your unit
Register your product and receive a free bottle of Pump Armor, a storage fluid that extends the life of your pump.