Machining
Work in a quality-driven environment, equipped with the industry's best machines and automation. Machining at Graco isn't just another job, it's a career where you can develop professionally to the level you choose. Graco provides machinists the opportunity to continue to learn on the job and in the classroom. As part of the machining team you will work closely with experienced machinists and manufacturing engineers to make sure we are producing high quality parts. You will feel rewarded everyday knowing that your production is driving the heart of Graco.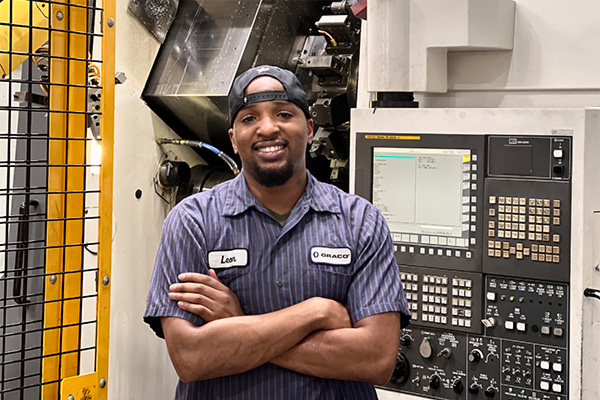 At Graco, machinists work on a variety of state-of-the-art CNC Machines such as Mazaks – Hyper Quadrex, Integrex, Multiplex mills and lathes, Citizen Swiss lathes, a variety of multi-spindles, and Fanuc robotic assisted machines. Graco spends around $25 million on new equipment each year. We have a training program for junior machinists to help get them trained on Graco equipment. Graco offers paid internships for machinists enrolled in a 2-year machining technology program. On average, 32 per cent of our interns are converted to full-time.
Schools we partner with:
Alexandria Tech
Hennepin Tech
Anoka Tech
MCTC
Dunwoody
St. Paul College
"To make great products you need great people and Graco does a great job on retaining the very best in their respective fields of expertise. I personally love working for Graco because I know I'm producing top-of-the-line products and learning while I do so. Graco does a good job of supporting your career goals and allows its employees to further their education in order to achieve them. As a machinist for Graco, I enjoy making products that I can be proud of and that will stand the test of time."
–Leon L., CNC Machinist
Operate Machines and Edit Programs
Operate a variety of CNC machines
Edit programs to adjust tools and overall machine performance
Trouble-shoot machine issues, perform daily machine set-ups and operate in a safe environment 
Read and Understand Print Layouts
Read and understand print layouts to ensure part quality and perform necessary inspections with CMM, Trimos and othe rquality equipment and gauges
Help Achieve Quality and Productivity Goals
Work as a team member to aid all shifts and support personnel to operate to departmental standards including
Education and Career Path
Join the Graco Team
If you're ready to take the next step, we'd love to have you on our team. Explore our open positions.