Open Gear Spray Lubrication
Use Graco Spray Lubrication Systems in highly challenging environments to enhance uptime, improve productivity and reduce maintenance costs.
Well-oiled machines run on Graco.
Modular easy-to-spec system
The Graco Spray Lubrication system consists of two kits: Pump kit and Spray kit. Just tell us your gear width, and whether you want to use your PLC or Graco GLC X Controller to control the Open Gear Spray System.
Impressive ROI
Recoup your investment quickly - even within one month. An inoperable piece of equipment can grind your entire operation to a halt while you wait for repairs. Inadequate lubrication can also significantly diminish the lifespan of equipment. With some machinery costing hundreds of thousands of euros or more, shouldn't you do everything you can to extend its longevity?
Optimal spray pattern
The Graco Spray Lubrication System ensures that gears are adequately lubricated, which reduces friction and wear. In addition, an optimal spray pattern helps to prevent the accumulation of excess lubricant, which can attract and retain debris, potentially causing damage to the gears.
Let Graco help you stay up to date with industry trends.
Graco will email you once a month with industry trends and solutions to help you achieve success for your business.
Why the Graco Spray Lubrication System excels
In the first place, an optimal spray lubrication system relies on excellent spraying capacities. At Graco, we have mastered the art of spraying in an industrial setting in all kinds of applications and for all spraying materials and conditions. This is why we are the market leader when it comes to spraying high viscosity liquids such as lubricants.
On top of that we know how to integrate spraying components in an overall flawless spraying system, fit for any industrial process or setting.
Modular solution - Key features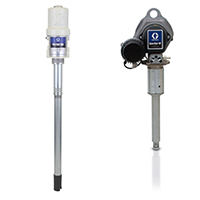 Pumps
Electric, work smoothly with high pumpability at low temperatures, adjustable of Amp and pump speed
Pneumatic, heavy-duty, 7-year-warranty
Pneumatic elevator drum (optional)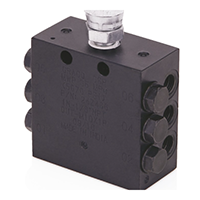 Metering divider valves
Built-in durability (zinc-iron plating stands up to harsh environments)
Output to meet your needs (0.2 cc per stroke output) and to dispense the exact amount
Easy to extend, connect and install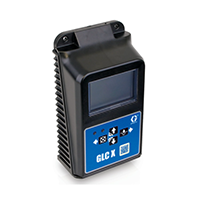 Controller
IP69K outdoor rated
Real-time system reporting (Data log), smart device and mobile App
Work with interval, precise and regular lube event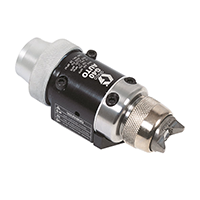 Spray gun
Unique spray pattern. No over-spraying thanks to self-sealing air valve action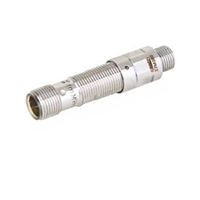 Proximity switch
Magnetically-operated sensing devices for sending system data to the controller or PLC.
Open Gear Spray Lubrication packages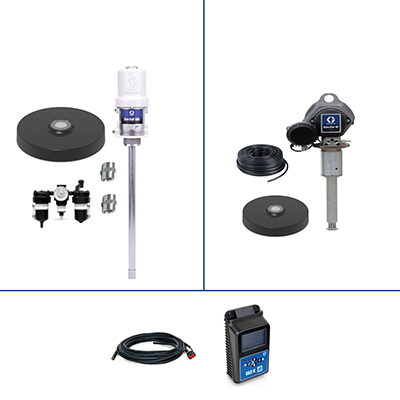 Pump kit
Choose whether you want a pneumatic or electric pump, and if you want to control the spray system with the help of the Graco GLC X Controller or your own PLC.
Pump kit components: 
Pneumatic Fire-Ball 300 50:1 or Electric Dyna-Star Pump
GLC X Controller or PLC adapted kit
Hoses and fittings
Other accessories for a successful installation
| | |
| --- | --- |
| Part Number | Part Description |
| 25V529 | Pump Kit; Pneumatic |
| 25V530 | Pump Kit; Pneumatic, PLC |
| 25V531 | Pump Kit; Electric |
| 25V532 | Pump Kit; Electric, PLC |
| 241663 | Drum Elevator |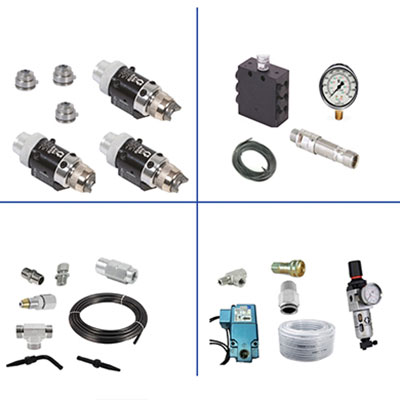 Spray kit
Just tell us the gear width and we will inform you how many spray guns are required to lubricate your open gear. PerformAA Spray Guns are very flexible; with up to three Spray Guns we can cover gear widths from 150 mm to 950 mm.
Spray kit components: 
CSP Divider Valve with Proximity Switch
Air-Assisted PerformAA Spray Guns
Hoses and fittings
Other accessories for a successful installation
| | |
| --- | --- |
| Part Number | Part Description |
| 25V533 | Spray Kit; 150mm - 320mm |
| 25V534 | Spray Kit; 320mm - 550mm |
| 25V535 | Spray Kit; 550mm - 950mm |