Dispense Guns & Oil Meters
Graco engineers and manufactures a complete line of reliable and ruggedly constructed dispensing guns that are available with a broad range of electronic or mechanical meters. You'll find Graco dispensing guns hard at work in a range of applications from service facilities to dealerships.
GUNS & METERS COMPATIBLE WITH OILS, DEF & OTHER AUTOMOTIVE FLUIDS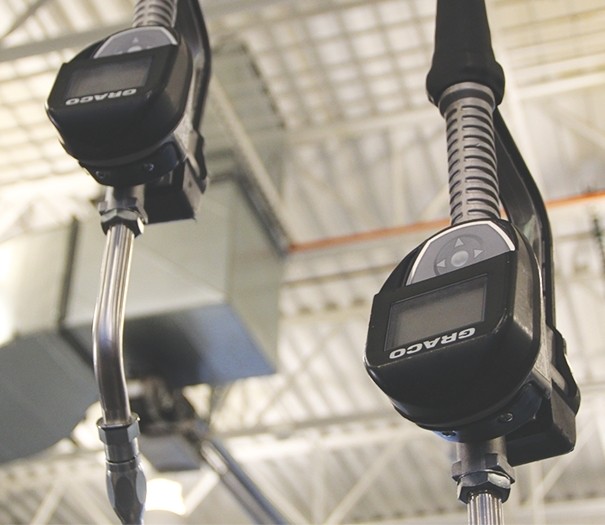 HIGH-QUALITY, DURABLE EQUIPMENT
When you buy a Graco product, you know it's been engineered with high-quality materials, tested and proven to perform right out of the box. The result: Graco products last longer, eliminating equipment downtime. Nobody wants their technicians "on the bench waiting for equipment to be repaired. Additionally, your Graco oil meters and guns can handle a wide variety of petroleum and synthetic oils, DEF and antifreeze.
Long Lasting Products for Harsh Environments
Graco products last longer than others because we design and build them with the best components. You work in harsh environments and our oil dispensing guns deliver year after year, with no downtime.
Designed to Handle a Variety of Materials
Our line of oil guns handle a wide variety of materials including petroleum- and synthetic-based oils as well as antifreeze, gear lube and ATF. Depending on your needs, you can choose meters that deliver a wide range of flow rates and working pressures up to 103 Bar (1,500 PSI), which easily handle long hose runs.
Made for Dealerships to Small Repair Shops to Fleet Maintenance
Graco designs and builds our products to accommodate a variety of applications. These include car and truck dealerships, fleet maintenance shops, fast lubes or small repair shops.
Browse Dispense Guns & Oil Meters
Filter results
---
Type
---
Dispense Type
---
Display Type
---
Extension Type
---
Inlet Size (in)
---
Inlet Size (cm)
---
Inlet Size (mm)
---
Recommended Environment
---
Maximum Working Pressure (psi)
---
Maximum Working Pressure (bar)
---
Filters
Do you have any product questions?
Technical support
+32 89 770 847
Monday - Friday
8:30 - 17:00 CET
General support
+32 89 770 865
Monday - Friday
8:30 - 17:00 CET