How auto lube improves productivity and safety at the Aggregate quarry
Lehigh Hanson, the no. 1 business in the world for aggregate, no. 2 for concrete and no. 3 for cement, relies on Graco automatic lubrication on their Caterpillar 990 pit loader. Production supervisor Chris E. states that "if it is down, the whole operation is down." Learn how Graco's auto lube system is helping them keep their operation running.
WHEEL LOADER PRODUCTION GOALS 
Lehigh Hanson's loader has production goals of 5,000 to 6,000 tons of aggregate per day and about 1.2 million tons per year. In order for those goals to be reached, they must have the wheel loader up and running 10 to 14 hours a day. Centralised lubrication systems are an excellent way to keep these machines in operation. As the machine runs, precise amounts of lubricating grease are being dispensed to bearings, bushings and other pivot points at the correct time intervals to ensure proper lubrication.
IMPORTANCE OF WHEEL LOADER LUBRICATION
Chris explains that "when it comes to lubrication, if we have a pin that is not getting grease, that pin can actually fail and we would have to shut-down the machine to have it relined [and have] a new pin put in, and that could cost us a day or two." He adds, "Every pin that we replace could cost somewhere between $3,000 and $5,000." The initial costs associated with an auto lube system are quickly justified with the quick return on investment these systems provide.
GRACO PROVIDES AN AUTO LUBE SOLUTION
 "There are 28 grease points on the 990; to manually grease it, you would probably be looking at 45 minutes to an hour," says Lehigh Hanson plant manager TJ S. "The Compact Dyna-Star® auto lube system cuts our downtime by five hours a week because it greases continuously as the machine is running. We only have to fill that reservoir once a week, and we can do that at night. The Dyna-Star has proven to be a better pump for us. We have not had as many clogging issues as we had with the previous pump that we had on our system. It seems to be stronger and pushes the little clogs that we get every once in a while through the system. We have seen had a lot better uptime with this new pump."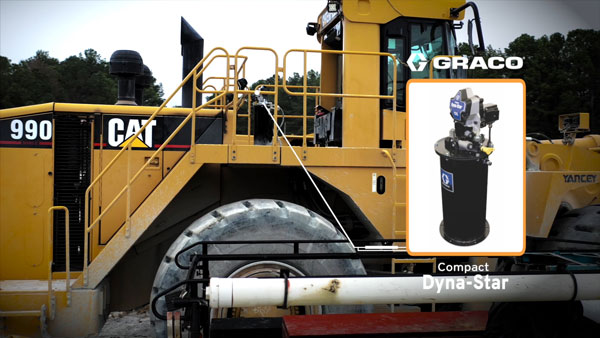 PREVIOUS AUTO LUBE SYSTEM ISSUES
An issue that Chris and his operators faced with former automatic greasing systems was the danger of overfilling the grease system canister. This could lead to an environmental issue if grease ended up on the ground instead of in the grease pump. The Compact Dyna-Star (CDS) lubrication pump has an optional auto-fill shut-off valve that eliminates overfills. Chris explains that this feature allows his operators to do other things on the machine. "They could fill the machine, they could check the machine out, so that gives them more time to look their machine over to make sure that it is ready to run the next day."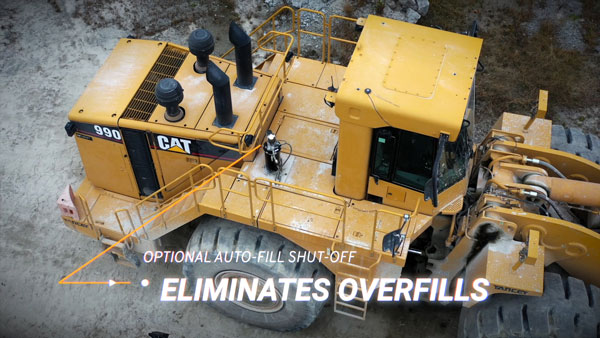 Rugged and sized right
Automatic lubrication pumps that are too big are difficult to install, and a pump that is too small leads to trouble keeping up with required lubrication rates. TJ says that the CDS seems to be the right size for the equipment they have. "It is durable and resistant to this harsh environment," he says. He adds that "our equipment has to be very tough, and any support equipment that is on our equipment has to be tough."
The CDS is built tough like Graco's industry-proven Electric Dyna-Star but in a smaller footprint. It's compact profile fits into tighter spots and meets tighter budgets all while delivering high-capacity flow, robust durability and innovative feedback and controls. The CDS meets the application needs of not only the aggregates industry but also mining, construction, hydraulic fracturing units and other industries that require heavy-duty earth-moving machines in extreme environments.
"We do like Graco. It is a quality company with a quality product. It was a no-brainer for us." – Chris E.
Related products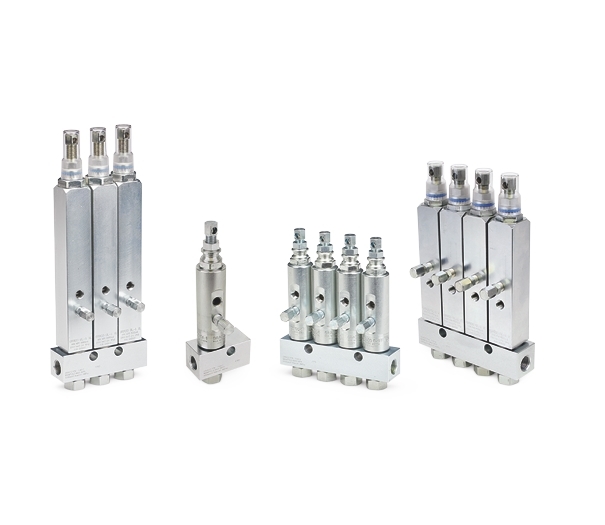 Do You Have Product Questions?
Technical Support
+32 89 770 847
Monday - Friday
8:30 - 17:00 CET
General Support
+32 89 770 865
Monday - Friday
8:30 - 17:00 CET