Graco's leading automatic lubrication solutions
Graco provides a wide portfolio of complete automatic lubrication solutions for any application.
Graco has all automatic lubrication solutions to provide your equipment with the right amount of lubricant at the right time and in the right place. Our complete portfolio contains all necessary automatic lubrication components for any type of mobile or industrial application, even tailor-made.
Graco provides a wide portfolio of complete automatic lubrication solutions that contain all the components necessary. Based on pneumatic, hydraulic or electric drives, they are suitable for all types of mobile or industrial application, and we can even tailor a solution for a specific application.
 
The right automatic lubrication solution for any application
Whether you are looking for a single line parallel or series progressive configuration, Graco has all automatic lubrication solutions to provide your machines with the right amount of lubricant at the right time and in the right place.
 
PUMPS AND RESERVOIRS
The pump provides a steady flow of lubricant that is spread to all lubrication points. Graco pumps come in all sorts and sizes, such as pumps for grease and oil, with a wide variety of outputs to handle all possible automatic lubrication jobs.
 
Electric grease pumps
The super-efficient design of Graco's electric grease pumps delivers the right amount of grease at the right time – all in a neat, compact system. An example is the Electric Dyna-Star.

Ideal for mining operations, heavy-duty construction, industrial applications, and milling & crushing, the high-pressure model is capable of 5.000 psi (344 bar) with a maximum output of 18 cubic inches (295 cc) per minute. This model maintains its high-performance levels even in temperatures as low as -40°C. If the application demands high flow, there is an Electric Dyna-Star model capable of providing 3.500 psi (241 bar) with a maximum output as high as 25 cubic inches (410 cc) per minute.
At the heart of the pump is the Graco Advantage Drive. It consists of high quality, hardened steel helical gears lubricated for life and it is sealed to keep contaminants out for longer-lasting performance. It's been field-proven for over ten years to be the longest lasting drive in the industry.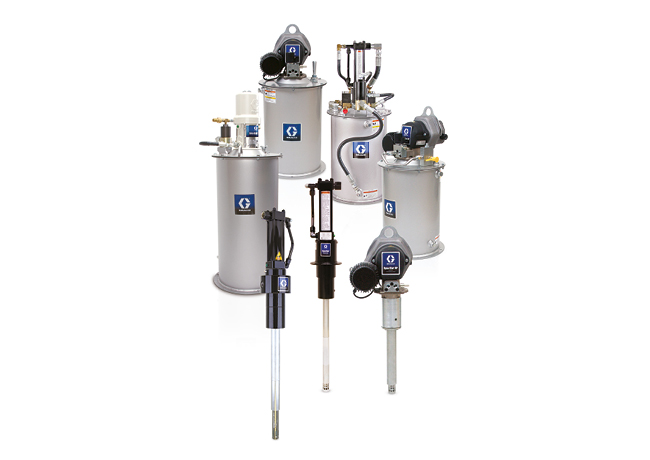 Pneumatic oil and grease pumps
Graco has been making pneumatic oil & grease pumps for over seven decades; ever since the company launched the high-pressure Fire-Ball® lubrication pump in the mid-1950s. Their latest product is the LubePro series of pumps, which leverages the proven quality and leading technology of the Fire-Ball.
These pumps offer a robust solution where high output and fast lubrication cycles and flow rates are needed to optimally lubricate equipment while it's working. Available for grease or oil, the LubePro covers a wide variety of in-plant manufacturing applications. Features include the integrated self-venting pump, which automatically relieves pressure on the return stroke without the need for a pressure switch or wiring, and an optional low-level indicator.
The LubePro H1900 pump pushes productivity a notch higher. It enables plant maintenance staff to fill it remotely. It is designed to attach to an oil header line from a remote fill station. This eliminates the need to individually fill pump oil reservoirs around the plant.
 
Electric oil and grease pumps
In the crowded marketplace of electric oil & grease pumps, the G3 Electric Lubrication Pump stands out. Designed for longer-lasting performance and reliability, G3 meets fluctuating temperatures, challenging installation requirements and changing grease types head-on.
Specially contoured base funnels grease directly to the pump inlet to significantly reduce stagnant flow areas where soaps and grease fillers can accumulate. The G3 is the ultimate in flexibility so is at home in multiple markets and applications.
It works with both injector-based and series progressive systems. The UV-resistant, high-impact reservoir is available in multiple sizes (2, 4, 8, 12 or 16 liters) for oil and grease to meet the needs of your equipment. You can mix and match up to three cycles or pressure switches for custom installations and feedback. It is delivered with one adjustable pump element – but has room for two more for higher output on large projects. And it has three controller options – Standard, Pro and Max – so you buy only what you need for your application.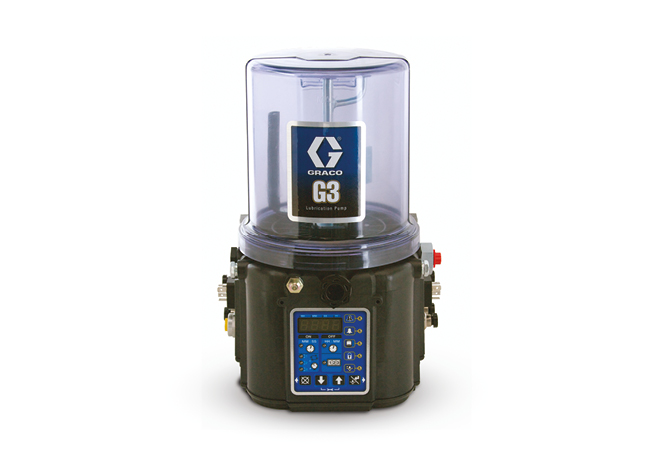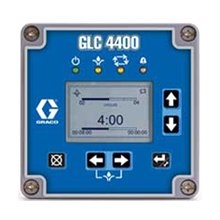 CONTROLLERS
A controller is essential to provide programmed lubrication cycles for optimal machine performance. A good controller will enable you to customize your lubrication time, pressure, cycle counts and machine counts for maximum precision and productivity.
The Graco GLC 4400 Multi-Purpose Controller does all that and more. It incorporates a simple icon- and menu-based user interface that is easy to set up and operate, saving valuable technician time. Further setup time savings – as well as reduced inspection time – are possible thanks to special operation modes. Rugged and weatherproof, the GLC 4400 meets the stringent IP 69K protection requirements. It works with single line resistive, single-line parallel, series progressive and dual-line systems.
 
METERING
Graco makes a wide range of top-quality progressive dividers. They meet the lubrication requirements of bearings and other lubrication points and are available in carbon steel and stainless steel.
The Trabon MSP Series was the original modular-style series progressive divider valve – and continues to be highly rated. Its quick-change valve sections can be removed from the base assembly without disturbing any lube lines. This minimizes labour cost and maximizes machine uptime.
A built-in outlet check valve ensures accurate lube delivery, every time. An alternative outlet on the face of the valve can be fitted with optional performance indicators, to make troubleshooting so much easier and more reliable.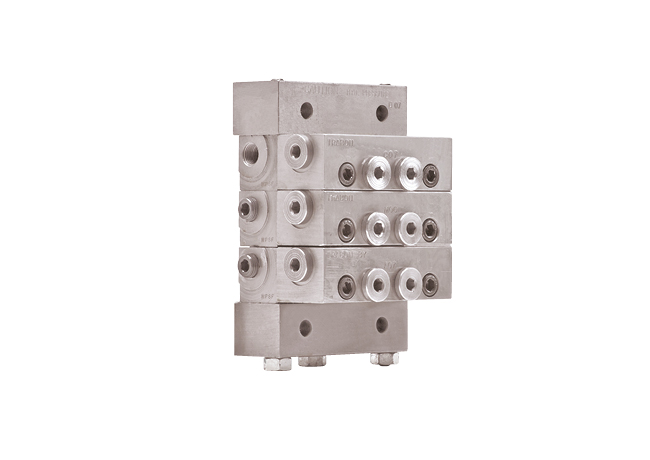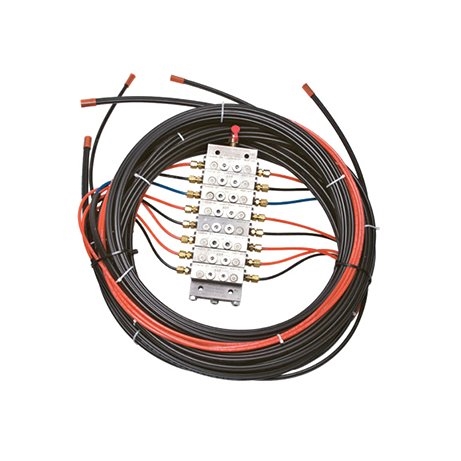 HOSE AND FITTINGS
How do you grease a vehicle such as a truck or tractor? Do you crawl under the frame and lie on your back to grease the tie rods and lower kingpins? Painfully stretching to reach the spring hangers hidden behind the fuel tank? You know there is an easier way to do it? ….
With the Graco EZ Greaser these discomforts belong to the past. This single point lube system consists of lubrication lines connected directly to the lube point. Once installed, it just takes a few pumps of the grease gun and your entire chassis is lubricated and ready for the road.
What used to be a complicated, time-consuming job is now as easy as point and squeeze. And because it is so easy, chances are it will be done when scheduled, leading to less wear and tear from improperly lubricated fittings. As it's a contained system, sand and dirt are prevented from entering the lines, eliminating a source of wear.
 
ACCESSORIES
Graco offers a comprehensive array of accessories. These include pressure, proximity and cycle switches, which inform immediately if a system is not operational. The optional broken line indicator enables easy monitoring of whether the lubricant has reached the bearing. Further accessories like performance and magnetic visual indicators speed up troubleshooting to decrease machine downtime.