SUCCESS STORY: AUTOLUBE RESULTS IN INCREASED CUSTOMER SATISFACTION
Refuse truck manufacturer finds success with a G3 auto lube system.
An Iowa refuse truck manufacturer was experiencing issues with an alternative automatic lubrication system over-greasing during normal operation.
A review of the competitor's installations made it apparent that proper system analysis and design were not used when determining lubrication requirements. End users complained of bearing seals blowing out and excessive greasing of the rail bearings and gripper system.
The solution 
Graco worked with purchasing, engineering and equipment builders to determine the best solution for the application, and a G3 pump was chosen. The G3 Pro pump was designed to turn on only when the hydraulic system is engaged for the refuse truck collection system. For the lubricant metering devices, USP divider valves were used to maintain a competitive pricing structure and to minimize space requirements on the various lubrication locations.
Lastly, cycle indicators and grease zerks were applied to each USP divider valve to assist the end user in troubleshooting, should system diagnosis be needed after installation. Furthermore, Graco trained equipment builders in the installation process to ensure proper routing and metering of lubrication to the various grease points.
 
The result
As a result, the OEM achieved an increase in customer satisfaction by providing a factory-fit automatic lubrication system to the end user that provides reliable and proper lubrication practices. Since then, the OEM has experienced a decrease in warranty repair and service calls on failed bushings, bearings and cylinder packings from the end user.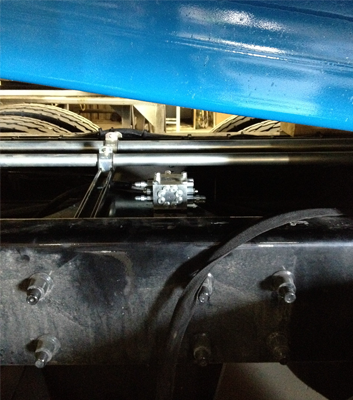 Image of a master divider valve centrally located on the main chassis of the refuse truck. Placement was chosen to equally distribute lube pressure to the other 6 feeder valves conveniently located in the front, back and side of the vehicle.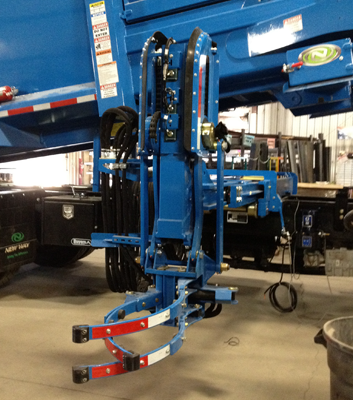 Image of a gripper arm and horizontal and vertical mast, which receives automatic lubrication to 27 grease points utilizing a Graco G3 pump and USP divider valves.