Roof Coating Sprayers
Professional roofing contractors prefer Graco roof coating sprayers for their versatility, durability, and superior performance. If you are in need for roof coating tools and roof coating equipment, Graco is the way to go. Each roof coating sprayer is easily customised to handle many coatings for residential, commercial or industrial jobs to maximise your productivity and profits.
ROOF COATING SPRAYERS FOR RESIDENTIAL TO COMMERCIAL JOBS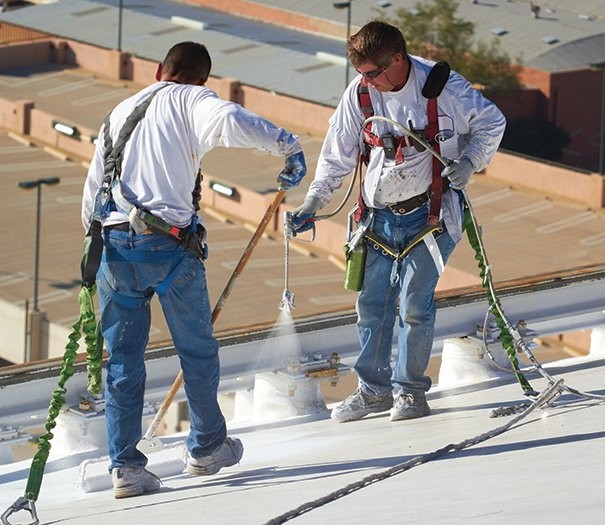 Why Graco Roof Coating Sprayers?
Our roof coating sprayers are designed to provide the coverage, flow rate, and pressure needed for all your applications. Durable Graco roof coating tools are equipped with valuable features that make them extremely versatile. High quality parts plus gas, electric, air driven, and hydraulic options means we'll have a sprayer that fits your needs. Our systems are designed to be used with elastomeric roof coatings, silicone roof coatings, acrylic roof coatings, asphalts, rubber roof coatings and other materials.
WITH UNBEATABLE PERFORMANCE COMES UNPARALLELED
Unmatched Versatility for Pros Like
You'll be hard-pressed to find a more versatile roof coating sprayer. Like all Graco products, these systems are engineered to meet the needs of professional contractors. Depending on your requirements and job size, systems come in a wide variety of sizes and product lines.
Achieve Consistent High Quality Finishes
Our family of roof coating sprayers offers contractors high output systems with outstanding control. The result: Consistent high quality finishes you've come to expect from Graco roof coating tools... applied with speed and precision.
You'll Complete More Jobs in Record Time
With unbeatable performance comes unparalleled ROI. After investing in Graco roof coating equipment, such as the roof coating sprayer, contractors report an increase in productivity, which usually results in more available time that you can use to squeeze in more projects during the week. Yes, time is money, and it translates into a great ROI.
Browse Roof Coating Sprayers
Have Questions? Let's Talk.
Call Support
Email Support
Find a Distributor
For local sales and service support