Extending the Life of Critical Water Infrastructure
---
How to Apply 500 Mils of Epoxy Material in a Single Coat
Hint: Start with an XP50 Graco Sprayer
Q & A with Warren Environmental and A&W Maintenance
Warren Environmental is outfitting their approved applicators nationwide with leading edge trailers that extend the life of critical water infrastructure.
About Warren Environmental
Warren Environmental, in Middleborough, Massachusetts, manufactures robust epoxy coatings designed for numerous applications including storm water, waste water and potable water. The tough coating has a reputation within the industry for adding 75+ years of infrastructure life to sewer systems. 
In fact, Warren Environmental claims it is the only epoxy lining on the market that can be spray applied in one coat up to 500 mils thick. To do that consistently takes powerful, rugged sprayers, patented technology and a process that's been polished through years of experience working with master applicator A&W Maintenance and its other 21 approved applicators in North America.


As Warren's master applicator, A&W Maintenance trains and oversees quality control of the company's approved applicators, while also helping to continuously improve Warren's patented pump technology.

In 2018, Warren Environmental set out to improve the efficiency and effectiveness of its custom spray-trailer rigs. Leveraging 25 years of application experience and listening to improvement suggestions from its master applicator and applicator network, Warren and team developed the next generation of state-of-the-art spray trailers using Graco customised equipment.
To learn more about their journey, Graco spoke with Warren vice president Brian Brandstetter and two representatives from A&W Maintenance who worked directly with Warren: Project engineer Wesley Maples and superintendent Brian Warren.


Typical Projects: Waste water
Graco: How would you describe the applications you're most known for?
Warren Environmental: Our most typical projects are concrete structures in waste water environments, such as lift stations, junction boxes, clarifiers, digesters and treatment plants. We also have potable water, chemical-resistant and fire-resistant products, but most of our work is focused on waste water collection systems. We have an estimated 75-year lifespan on our coatings and applications that go back 25 years ago that are still in service.
Our product is environmentally-friendly – safe for people and marine life. We believe anything that's touching water or sewer will eventually make its way back into the aquifer, so we're always striving to manufacturer products that will have no impact to the body source. Our potable water products are also safe for humans, ensuring no contaminants will leach into drinking water.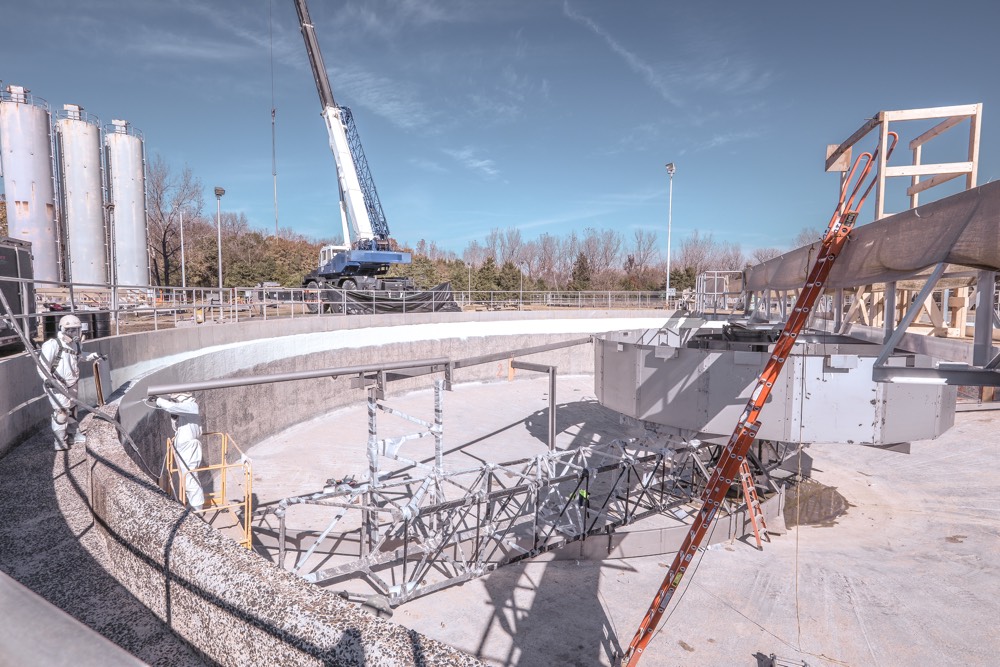 Graco: How many applicators do you oversee and what's your process for bringing them on board?
Warren Environmental: Currently, we have 21 applicators. If somebody shows an interest in becoming an applicator for Warren, we have a registration form they fill out. The form gives us an idea of what they're looking to do in their market and their goals for the Warren product. Then we'll go and meet with them at their office, look at their jobs and talk to their employees and clients. 
It's a very detailed process from the standpoint of wanting to build the company with folks who want to be in business with us and we want to be in business with them. They have to be focused on the same philosophy:  safety, quality and clients. 
About 15% of the people that come to us make it through to becoming an approved applicator. Once they do, they come to Warren for training. During that time, they work with A&W staff in hands-on training for three and a half days of surface preparation, product understanding, application and spray techniques and testing/inspection methods. The Warren product technique is very different from a lot of other coatings because of its unique properties. 
Graco: When you approached Graco, what were you looking for in terms of equipment?
Warren Environmental: The goal was to build a spray trailer that had the latest and greatest technical improvements. Wesley, with A&W, spent over a year talking to applicators about what they liked and didn't like about their current trailers. We wanted our spray trailers to be of supreme quality and contain a high level of consistency from trailer to trailer. This would allow for superior durability as well as increased safety on the job site for our applicators in the field. This would also allow our applicators to consistently apply our product. We also spent a good deal of time with Graco distributors on understanding what the best new equipment options were for our product. We have a 100% solids epoxy that requires specific equipment to spray. Warren is not a paint – it's a coating. Warren also has its own patented pumping system inside the trailer that deals with other parts of the operation, but we needed to match it with the best piece of equipment on the market for our product.
A&W Maintenance: We'd also like to credit Bobby Zaffino with The Paint Project (Graco distributor) for taking good care of us as we've worked to refine the system over the years.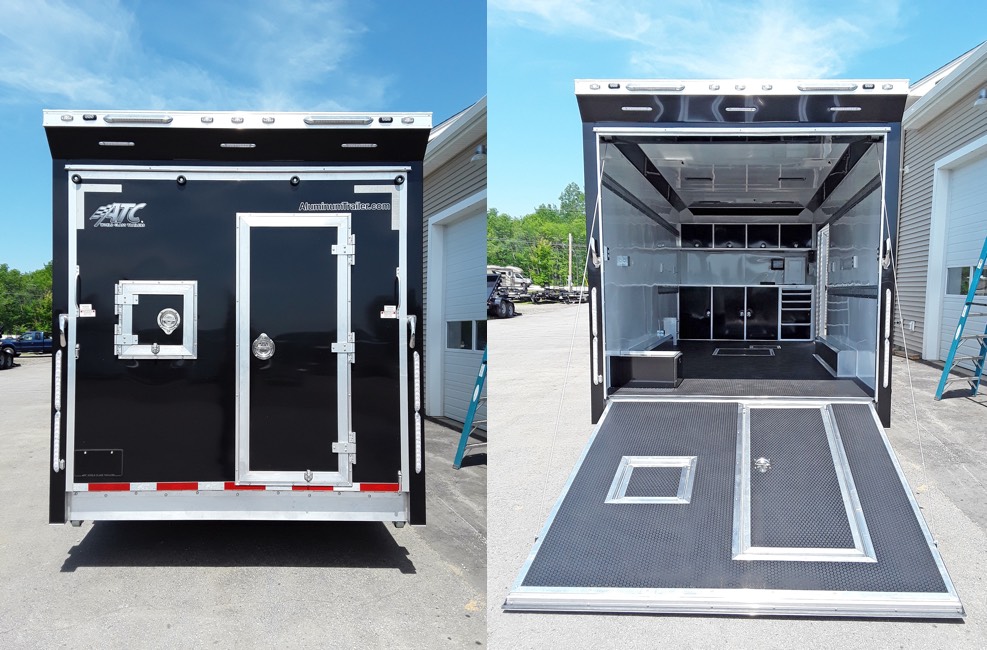 Graco: What were your applicators asking for?
Warren Environmental: A lot of the pain shared by our applicators had to do with the trailer itself. The system was so complicated it took a long time to figure out how to work it properly. We went into the project thinking of how to simplify it and make it so someone who doesn't have 20 years of experience can walk in after their Warren training and understand how to make it work properly. 
We also wanted the spray rigs to be super tough – building them with an eight-inch box frame instead of six-inch. Also, we put electric hydraulic jacks on each corner and installed three times as many lights as previous trailers. We had the lights shifted in different angles, so they would be as efficient as possible in different work environments. Finally, we integrated the fuel cells for both the air compressor and the generator. 
A&W Maintenance: One of our favourite features of the trailer is the exterior work lights and the strobe lights. If we're working in traffic, they're just priceless. We're able to work more safely, keep our guys protected and make us more visible to traffic and onlookers.
Uniformity is huge, especially when you're working with applicators. Every trailer needs to be the same and every switch needs to be in the same spot.
Wesley (A&W) spent a great deal of time understanding where to mount the Graco pump, the fittings and all the hoses and electricals that go with it to make sure they are perfectly matched up. We source the trailers from The Aluminium Trailer Company.
Graco: Why did you select Graco's XP50 plural component sprayer?
A&W Maintenance: We apply a high-end material, so we wanted to ensure our end users can get the Warren product on their asset as accurately and correctly as possible. 
The XP50 has a computer system, which allows it to maintain and monitor material ratios. We're a two-to-one product. The computer system's ability to shut the pump down if the material isn't on ratio is a huge win because ultimately, the product has to be in ratio to go on correctly. It's just another way we're maintaining a quality standard. Not just any equipment will spray Warren's product, but Graco's XP50 worked out really nice.
Another key benefit is the sprayer's data track module, which tracks material consumption. Back in the day, we used to put a stick in the barrels to see how much was left. Now, we accurately know down to a tenth of a gallon how much product we used that day; it helps us be a lot more efficient.
Because we have a documented history of our material usage on jobs, we can be more accurate when bidding on new projects. The new trailers remove the guesswork, allowing us and all Warren's approved applicators to be more competitive.


One of our other deciding factors was the robustness of the XP50 and the ease of keeping it up and running. If we need to replace the lowers, it's a reasonably straightforward process to do. Having two lowers also doubles the volume. Having two lowers facilitates the ability to spray plural component coatings in specific ratios based on the volume capacity of each lower (i.e., 180cc base lower + 90cc activator lower = 2:1 ratio by volume).

We also like the Graco equipment because it's so serviceable. If you take care of it, you can rebuild pumps forever. We've been using the Graco XP50 for two years now as our main sprayer system. Graco's been great to work with; they've also customised some features to facilitate spraying the product.
Graco: Have your applicators been pleased with the new Graco equipment and trailers?
Warren Environmental: Everybody's been extremely happy with them. The biggest problem has been our applicators fighting over who gets to use the new trailers! Some of these systems have been cranking at least 1892 litres (500 gallons) per day for months. 
We're very happy with them.
Have Questions? Let's Talk.
Contact an expert
We'll help you choose the right product for your job.
Tech Support
Email Support