Automatic Grease & Oil Systems
Graco's automatic oil and grease systems are designed to support the needs of on-road trucks and heavy equipment. Fleets across the globe rely on our built-to-last systems to automatically lubricate their assets. Additionally, Graco provides centralized grease systems for vehicles, buses, fire trucks, cement trucks, waste haulers and more. These reliable systems include state-of-the-art controller and monitoring options, pumps, injectors, divider valves and numerous other customizable accessories.
DESIGNED FOR ON-ROAD AND OFF-ROAD MOBILE EQUIPMENT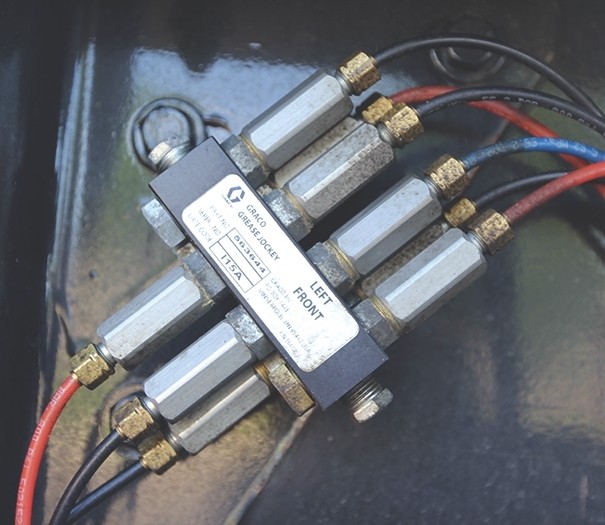 MORE COST-EFFECTIVE THAN MANUAL LUBRICATION
Whether you own 2 rigs or 2,000, you'll minimize downtime and reduce maintenance costs with automatic lubrication systems. Compared to manual lubrication, an automatic grease system for trucks and mobile equipment applies the right amount of grease when it's needed, where it's supposed to, automatically, with little or no waste—while the vehicle is moving. On equipment that's clocking thousands of miles a year, automatic greasers minimize wear and tear on expensive assets.
REDUCE EQUIPMENT WEAR & TEAR
Reduce Equipment Maintenance Costs
Reduce overall equipment maintenance costs through regular automatic lubrication while extending the life of your equipment.
Minimize Wear and Tear with Auto Greasers
Minimize the wear and tear on expensive assets and downtime with Graco's automatic oil and grease systems. Our systems have been field-proven on thousands of vehicles and equipment.
Fully Customizable Systems for Trucks & Trailers
Graco's catalog of pre-designed auto lube systems, including all accessories, for heavy-duty on-road mobile equipment is constantly growing. Moreover, systems are easily customized to fit specialty vehicles and your application.
Filter results
---
Includes
---
Maximum Working Pressure (psi)
---
Maximum Working Pressure (bar)
---
Application
---
Filters
Graco's family of Grease Jockey automatic lubrication systems keeps your equipment running at peak performance and takes the hassle out of manual lubrication. Eliminate wasted time and missed lube points.
Free Webinar
---
Fleet Maintenance Simplified
Create Efficiencies, Eliminate Downtime and Save Money
Have Questions? Let's Talk.
Call Support
Monday-Friday
7:30 a.m.-5 p.m. Central Time
Contact Us
Contact Graco
We'll help you choose the right product for your use.