Flow Divider Valves
Graco's extensive line of flow divider valves are part of our family of automatic lubrication systems for heavy on-road vehicles in areas such as tractor-trailers, cement trucks and waste haulers. As part of a complete on-vehicle automatic lubrication system, these divider valves accurately dispense lubricant from each block outlet to grease points throughout your vehicle.
DESIGNED FOR ON-VEHICLE AUTOMATIC LUBRICATION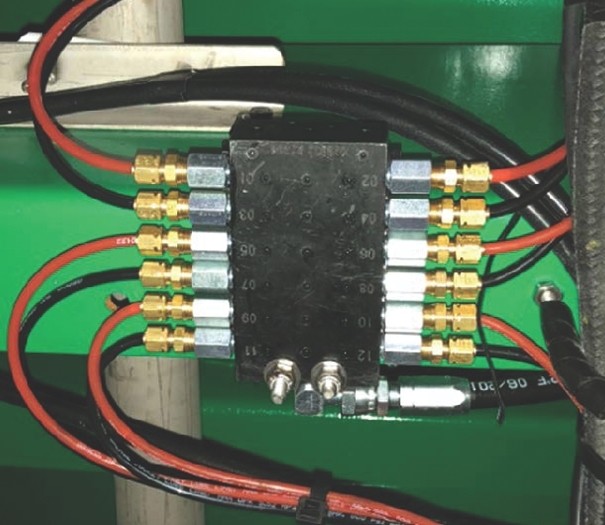 HANDLE WIDE VARIETY OF OILS AND GREASES
Reduce truck and fleet maintenance costs with our oil and grease divider valves. Designed with a wide range of block configurations, outlets and dispense volumes to lubricate multiple-sized bearings. Modular designs allow for easy installation within the chassis or working components of mobile equipment. Easily dispense lubricants in multiple zones—you program where and when.
REDUCE WEAR AND TEAR ON YOUR HEAVY VEHICLES
Easy to Install and Configure
Our flexible flow divider valves can be configured for all oils and greases, with flexible block configurations to give you a large number of outputs for any application.
Reduce Vehicle Maintenance Costs
You'll reduce vehicle downtime and maintenance costs when these flow divider valves are part of a Graco automatic lubrication system.
Receive System Feedback
Graco's full line of oil and grease distribution divider valves and accessories reliably provide unprecedented system feedback. A properly outfitted and installed divider valve system can alert users to blocked lubrication delivery lines, ensuring their equipment maintains optimal lubrication levels at all times.
Have Questions? Let's Talk.
Call Support
Monday-Friday
7:30 a.m.-5 p.m. Central Time
Contact Us
Contact Graco
We'll help you choose the right product for your use.