Service Garage & Lube Equipment
Graco manufactures equipment to monitor, control, manage and dispense fluids. We offer a full range of high-quality pumps, meters, valves, hose reels and accessories to increase production and reduce waste and downtime.

Increase Profits and Productivity
---
Streamline Workflows
Streamline your workflow and move more lubricants and fluids through your garage or shop. We offer reliable, high-quality equipment you can depend on for fuel, diesel, antifreeze, oil and grease. Our versatile fluid inventory control and management systems are designed to accurately track the use of oil, grease and other automotive fluids at vehicle maintenance facilities and our lubrication equipment ensures you deliver fluids to the right spot in your shop. From light-duty applications to high-performance facility designs needed for heavy-duty jobs, our equipment is known for its rugged and durable long-life design.
Industry Leading Product Support
We have your back with customer and technical product support wherever you are in the world.

Global Support With 3,300 Distributors
Graco partners with more than 3,300 distributors in more than 100 countries all over the world. Together, we help you select and customize a fluid management system that meets your unique requirements. After it's installed, we provide your team with ongoing local training and best-in-class product support.

Time-Tested, Quality Products
Business owners turn to Graco for the most reliable and highest-quality service lube equipment in the industry. We build our products and systems to last far beyond the competition.

Introducing Graco's Seven New Product Innovations
Oil, Grease & Other Automotive Fluid Products
Your technicians dispense an immense amount of bulk fluids, including oils, coolants, gear lube, windshield wash and more. It's one of the most frequent tasks your technicians perform. That's why it's important to keep it in check. After all, every drop matters and so does every dollar.

Free Webinar
---
Fleet Maintenance Simplified
Create Efficiencies, Eliminate Downtime and Save Money
BUYER'S GUIDE
Download and read about all of our lubrication equipment designed and manufactured for service garages.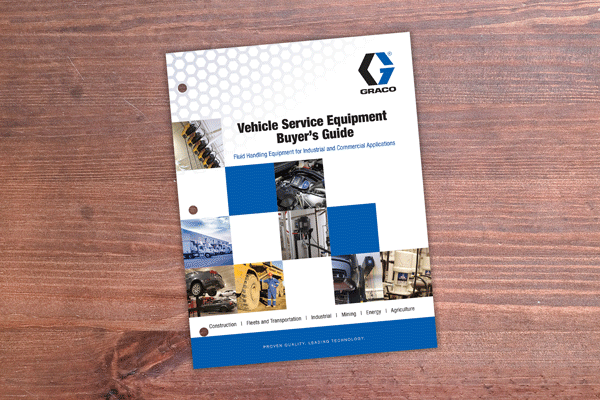 Have Questions? Let's Talk.
Learn More
Let us help recommend solutions for your business.
Find a Distributor
Find a resource near you from our network of authorized distributors. Graco works closely with our distributors—providing extensive training and expertise—to ensure we're always able to meet your unique needs.