Identifying Chassis Grease Points on Class 5-8 Trucks
This article aims to aid in identifying the various locations of critical grease points on Class 5 to 8 trucks and facilitate the selection of modules for Grease Jockey auto lube systems. To see all of Graco's lubrication solutions for your truck, visit our fleet and transportation page.
The grease points found throughout the truck chassis are:
Drag Link
Slack Adjusters 
S-Cams
Tie Rod Ends
Spring Pins & Shackles
5th Wheel Pivot & Plate 
Clutch/Transmission
The steering column normally includes several grease points, but because these points rotate and don't need a lot of grease, they are manually lubricated and not connected to the auto lube system. The steering box connects to the Pitman arm, which connects to the drag link. The drag link includes a ball joint at each end, and each of these ball joints will have a grease point. These points may be difficult to see, but it is safe to assume that each end of the drag link has a grease point. On most trucks the drag link is found only on the driver side, but some on/off-road trucks, snow plows, dump trucks and other heavier trucks may include "steering assist," which is a second drag link on the passenger side.

There may be an additional grease point on the steering box near the top of the Pitman arm, but it takes a very small amount of grease and auto lube would over-lubricate it, so this point is left to be manually lubricated.
The other points on the front axle will mirror each other because the brakes and springs will be the same on both sides of the front. 
If the front has drum brakes, there will be two points on each brake, one for the slack adjuster and one for the S-cam tube.
If the front has disc brakes then there are no grease points on them. 
If the spring points on the front are greasable, then there will be three on each side.
Most kingpins have two points for each pin.
Each front wheel has one ball joint on each end of the tie rod.
If the rear brakes are drum brakes, then each brake will have two points, one for the slack adjuster and one for the S-cam tube. If the rear has disc brakes then there are no grease points on them. 
Fifth wheel plates may come pre-drilled with lube points, but most will not. Assume that in order to properly lubricate the plate it will need to have four points drilled into it.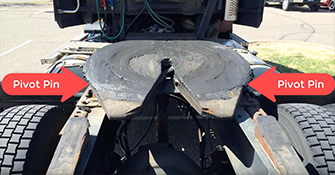 Another two points are located by two pivots, one on each side.They are actually pins inside of bushings where the fifth-wheel plate can tip forward and backwards. Typically there are going to be two pivot points but you'd also want to look around each side and make sure that there's a zerk on each of those pins. Some pivot pins are not greasable.
On the left side of the fifth-wheel plate there is a handle for the jaw release. The jaw in the middle of the fifth-wheel may get greased as well, but what you'll typically see is a grease point around the outside edge of the plate on the side. The point will have a remote line that goes into the jaw so you are able to grease it from the side instead of reaching inside that jaw, which would be dangerous.
For a manual transmission, there may be a remote line that hangs at the bottom of the transmission, and there may be two grease points along the side. Many trucks do not have any transmission grease points, but many may also have one, two or three points, so it is worth looking to avoid any missing or additional grease points. 
Now let's review the grease points we've identified for auto lube systems. There are upper kingpins and lower kingpins, drag link points, and a slack adjuster and an S-cam on each of the drum brakes. There are tie rod ends, spring pins and spring shackles. Additionally, there are fifth-wheel pivots and plate, and the clutch points or transmission points. If you have any questions about Grease Jockey systems or greasing a truck please don't hesitate to contact us – we're always happy to help.
Have Questions? Let's Talk.
Call Support
Monday-Friday
7:30 a.m.-5 p.m. Central Time
Contact Us
Contact Graco
We'll help you choose the right product for your use.