Quintuplex Pump Maintenance for Hydraulic Fracturing Operations
An essential tool for hydraulic fracturing, or simply fracking, is the quintuplex pump. Operating at high horsepower to generate increased flow rate, these pumps deliver fluid down into the wellbore and create cracks in the shale below to enable the upward travel of both oil and natural gas.
Compared to triplex pumps, quintuplex pumps are more efficient and resilient for hydraulic fracturing and are the standard option for this application. The benefits of utilizing a quintuplex pump for frac operations are broad, notably reducing the number of trucks required for a fleet and the overall downtime experienced by operators.
Despite the efficiencies offered by utilizing a quintuplex frac pump, proper maintenance of these pumps is essential to ensure their smooth operation and prolong their lifespan. In this article, we will discuss the importance of automatic lubrication in maintaining quintuplex pumps in hydraulic fracturing operations.
Preventing Pump Packing Failure
While the componentry of a frac pump has been meticulously engineered to mitigate the impact of stress and fatigue, the nature of the work can quickly undermine quoted product life estimations, impairing fleet utilization and safety.
One of the chief issues experienced by hydraulic fracturing pumps is packing failure. Already a consumable product, premature failure of packing results in unwanted downtime and shortens maintenance intervals. Repeated nonproductivity of machinery not only increases ownership costs, but damages the overall operational bottom line.
Excessive heat, a byproduct of pressure pumping, can deform packing materials, plugging lubrication ports and increasing the opportunity for sand to solidify in the fluid end. The presence of lubrication, which acts as a friction barrier seal between the packing and a pump's pistons, is necessary to prevent packing failure on quintuplex pumps.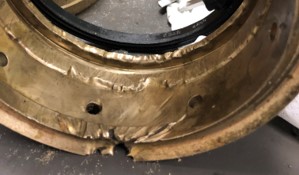 Packing seal deformation and material damage after extraction. Image courtesy of Klüber Lubrication USA.
While under greasing packing components is a common enough issue, the primary culprit of quintuplex packing failure is the over greasing that occurs until lubricant can be physically seen leaking from the pump. This results in the over pressuring of a packing's wiper seal until it breaks, meaning future lubrication will have limited effectiveness and inevitable heat build-up from pump operation will deform the packing.
Establishing a proactive lubrication program is a necessary step to the prevention of premature packing failure. Consistent, accurate dosing ensures technicians not only avoid replacing materials, but no longer have to clean up lubricant spillage on or under their pumps.
Impact of Automatic Lubrication for Quintuplex Pumps
With working conditions and equipment restrictions removing the option for manual lubrication, quintuplex frac pumps have been early adopters of automatic lubrication technology. Increased scrutiny of pump performance and consumable usage has driven a need to seek out robust solutions, often beyond the scope of what a pump may initially ship with.
Graco's G5 lubrication pump platform was designed specifically for quintuplex packing lube and to stand up to the harsh demands of fracking operations. Coming standard with five adjustable pump elements, the Graco G5 is widely customizable to meet various use conditions out in the field, delivering always on-time lubrication to reduce wear and enable pumps to remain operational.
Graco's G5 pump series is based on the highly popular G Series platform, with the flagship G3 lubrication pump already being battle-tested in less demanding frac operations globally. This shared DNA standardizes high quality componentry across Graco's line of automatic lubrication pumps, including U.V. resistant, high-impact reservoirs and precision machined pump bodies that avoid pooling.
Offered either as a standalone pump or within an enclosure, the Graco G5 can be customized to meet the exact specifications required for your quintuplex pump. Enclosures are available in two sizes – the larger can house an optional auto-fill shutoff (AFSO) and pressure relief valves (PRV) whereas the smaller enclosure can house just PRVs with the pump.
Enclosures include red and green run lights that can signal at a distance if the pump is at fault or can optionally be used to complete a manual lubrication cycle. The color for each button has been specifically chosen to match the indication lights operators are accustomed to and make first-time use a breeze.
Comprehensive Oil & Gas Solutions from Graco
In addition to the G5, which has various pump-to-point applications within the oil and gas market, Graco offers a range of products designed to assist in the drilling, production and transport of fossil fuels.
For a comprehensive view of Graco's technologies within this market, including chemical injection pumps and box lubrication for natural gas generators, visit our Oil & Gas market page.
This article was written in partnership with Klüber Lubrication USA. For lubrication specific inquiries related to fracking or the oil & gas market, please visit their website for additional information.
Related Products