Portable Pumps Give Rendering and EIFS Contractors New Flexibility
Portable Pumps Give Rendering and EIFS Contractors New Flexibility
Rendering and exterior insulation and finish system (EIFS) pumping has historically been accomplished with heavy-duty, trailer-mounted pumping units weighing 1134 kg (2,500 pounds) or more. These powerful pumps have proven effective at providing high production rates over long distances, but often present logistical challenges due to their size.
Recent advances in portable pumps have provided contractors new flexibility. Weighing in at approximately 91 kg (200 pounds), the portable units allow work to be accomplished with smaller crews, smaller equipment footprints and improved access and transportability. These smaller pumps fit through a standard door and are easily rolled from one spot to another by one person.
With conventional trailer-mounted pumps, as shown in Figure 1, rendering placement on a large commercial building might require crews of eight to 10 people. Up to 167 m2 (200 square yards) per hour of stucco can be placed, but sufficient workers are required to work the material after placement. If pumping rates outpace the rate at which workers can float and screed the material, the rendering workability can diminish before workers reach all of the plastered areas.
Figure 1: Conventional trailer-mounted pump.
On high-rise building projects, the rendering material is typically mixed on the ground, with the pumping unit positioned near the scaffolding supporting the workers.  The vertical lifts require high pressures to deliver the mixed rendering. These high pressures can create hazardous conditions when a hose connection needs to be opened to relieve blockages in the delivery hose. These blockages, often called pack-outs, occur when the liquid in the mortar separates from the aggregate. Pack-outs become more common as the hose length increases.
A portable pump such as the Graco S340e, as shown in Figure 2, can help address some of the logistical challenges of larger pumping systems. The portable pump can be transported to a job site via a ute, lifted by two people and transported closer to the placement location.  A rule-of-thumb production rate in the stucco trade of 84 m2 (100 square yards) per day per crew person can be easily accomplished by using a rendering pump. This production rate generally remains the same regardless of pump size. A small pump will still afford the 84 m2 (100 square yards) per day per person, using a crew of five people.  This is twice the rate of a typical hand crew.  For EIFS netting applications, a general rule of thumb is one roll of netting (42 m2 - 450 ft2) per day per crew person. When using the S340e pump, this production rate easily doubles.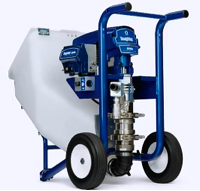 Figure 2: Portable pumps such as the Graco ToughTek S340e offer additional flexibility and easier transportability.
Efficient Design and Footprint
With dimensions of 117 x 60 x 97 centimetres (46 x 24 x 38 inches), the S340e can fit into tight spaces for easier spraying. Material can be mixed with continuous mixers located immediately adjacent to the placement location.
The variable-speed pump allows output volumes to be adjusted based on job conditions, with working pressures up to 41 bar (60inc0 psi) and hose lengths up to 30 m (100 feet). The two-ball piston pumps feature large internal passages that allow stucco and EIFS materials to move freely through the pump. Smooth passageways are designed to prevent material pack-out and flush quickly. The pump plugs into a standard 240-volt wall outlet or appropriately-sized generator.
The piston design offers advantages over previous peristaltic and rotor-stator pump designs used for rendering and fireproofing materials. Peristaltic pumps use rotating rollers pressed against special flexible tubing to create pressurised flows of up to 10.3 bar (150 psi). Rotor-stator pumps rely on a rubber cavity stationary component (stator) and a metal rotary component (rotor) to generate pressures of 13.8 to 20.7 bar (200 to 300 psi). Both peristaltic tubing and rotor-stator components require replacement at shorter intervals. Peristaltic and rotor-stator components can wear out in a matter of days, whereas the durable plastic piston cups last months with proper daily cleaning.
The added portability allows the pump to work from the interior of a building, reducing pumping distances and heights.  Pre-blended material can be poured directly into the 91 litre (20 gallon) polyethylene hopper. The rendering industry is generally moving toward more precise pre-blended rendering base coats, versus field-blended sand added on the job. The S340e pump coupled with a Graco continuous mixer can mix and deliver one pallet (36 kg (80-pound) sacks) per hour. For rendering applications, portable pumps can handle scratch coats, brown coats and finish coats, as shown in Figure 3. For EIFS applications, the pumps handle base coats and finish coats, as shown in Figure 4.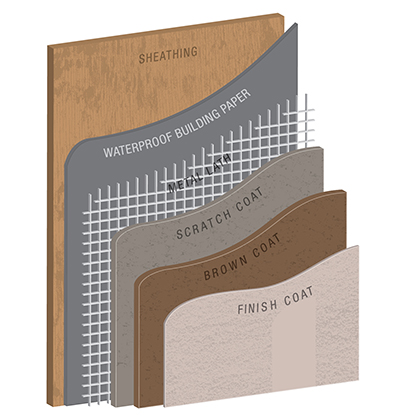 Figure 3: For rendering applications, portable pumps can handle scratch coats, brown coats and finish coats.
Figure 4: For EIFS applications, portable pumps can handle base coats and finish coats.
Portable pumps also offer potential quality advantages. With the increased pump transportability, operators can get closer to their work and better monitor placement. The variable flow rate allows adjustments to match crew size and maintain workability of stucco and EIFS materials.
The use of pre-blended material helps provide more consistent mixtures and allows mixing and pumping from multiple levels.  Most large projects have equipment elevators that can transport full pallets of materials to the desired floor level.
When spray applying EIFS or stucco finishes, the pump only cycles at 1/4 to 1/3 speed.  This slow pump speed provides a consistent spray pattern while still maintaining good production.  A three-person crew can spray up to 100 23 litre (5 gallon) pails of acrylic finish per day.   
The flexibility of portable pumps can offer new possibilities to stucco and EIFS contractors. Some advantages of "going small" include:
Decreased set-up and clean-out times
Reduced possibility of injury due to handling smaller/lighter pump hoses
Reduced pump pressures due to proximity of work
Smaller working footprint to mix and pump
Increased production over hand-applied methods
Ease of application for workers
Consistent spray patterns due to adjustability of pump output
For contractors facing challenging projects with tight constraints, the portable pump can provide a flexible, powerful solution. 
Have Questions? Let's Talk.
Contact an expert
We'll help you choose the right product for your job.
Tech Support
Email Support