AUTO GREASER KEEPS FARM SKID STEER LOADER IN SERVICE
Haubenschild Dairy Farm in Minnesota milks 1,500 cows three times a day. It raises the majority of its feed right on the farm. Bryan Haubenschild, farm owner-operator, explains how "dairy is a very labor-intensive occupation." He says, "There's always three people milking cows, there's always one person feeding cows, manure alleys need to be scraped." Skid steer loaders are essential tools to the operation, and having them always up and running is critical, especially since the farm cares for up to 150 baby cows daily and transports milk twice a day. Skid steer maintenance is a must, and this is where automatic lubrication shows its value. Bryan explains why in the following video:
HOW OFTEN DO YOU GREASE A SKID STEER?
Skid steer pins, bushing and other pivot points throughout the machine should be greased every 10 hours of operation, if not more depending on the working conditions. Bryan explains that on his farm "the skid loaders are used 10 to 12 hours a day, 365 days a year, so the grease points … should be greased daily."


HOW DO YOU GREASE A SKID STEER?
Skid steer maintenance, including manually greasing, is a cumbersome and time-consuming process. Always refer to the owner's manual on proper lubrication practices. The machine's grease points have to be thoroughly cleaned to ensure contaminants don't end up in the lubricant. Automatic lubrication systems save you valuable time by applying precise amounts of grease at the specified time to each grease point while your equipment is in operation. Bryan explains: "The working environment of our skid loader is an extremely dirty environment. [But there's] no risk of contaminants [getting into the grease] because [the auto lube system] is a closed system." He adds that when a pin would go out on the skid steer, the machine would be down for half a day. But, he says, "the Graco G-Mini auto greaser keeps the machine in service."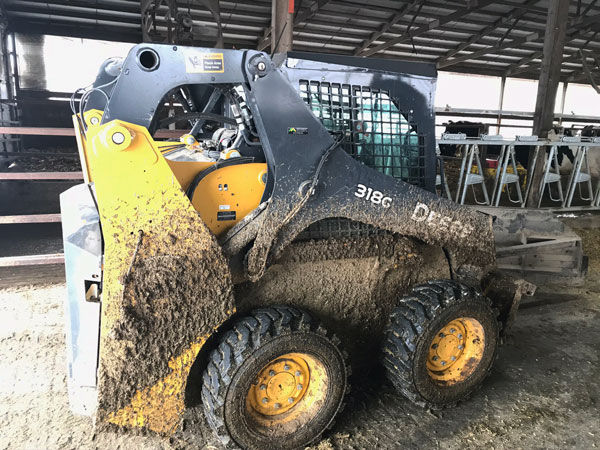 WILL AN AUTO LUBE SYSTEM WITHSTAND HARSH CONDITIONS?

Bryan has this to say about his experience with the G-Mini auto greasing system: "It's a durable machine and the pump has a heater on it, which enables us to operate in our extreme temperatures. We have 90-plus-degree days, we have 20 to 30 below [zero] mornings; the heater turns on when it's needed, the system is smart. If we were to run out of grease, we refill it, and it auto-resets. It doesn't take any babysitting at all."


AUTO LUBE SYSTEM LOCATION ON A SKID STEER OR OTHER COMPACT CONSTRUCTION EQUIPMENT
"The size of the pump itself fits in a very convenient spot," says Bryan. "You turn around and look, and you can see [that] the operating lights are on, and if there's an alarm, you can see the display. It has a built-in follower plate that allowed us to mount it on its side, which was a great benefit for the skid loader because it was able to be put it in a good spot where it didn't obstruct any view."


SAVE TIME AND MONEY
Skid steer repairs can cost a significant amount of time and money. Using an automatic lubrication system on your skid steer can help reduce the number of repairs needed, lowering costs and reducing the machine's downtime. Bryan adds, "The Graco G-Mini auto greaser just makes life easy for us. Ultimately, with less downtime, we can keep our cattle healthier and happier and keep more milk in the tank."