Cement Supplier Turns Profit with Less Downtime
Expensive bearing failures eliminated with automatic lubrication.
In cement production and delivery it is essential to keep the trucks moving and drums rolling. Drum bearings can take a load of about 40,000 pounds of concrete. Bearing failures with a full load will result in expensive repair costs and load loss. Losing a truck with a full load of concrete takes the truck out of service for several days, as the hardened concrete needs to be cleaned from the drum. Without proper lubrication, wear and failures can accelerate these failures.
A ready-mix cement supplier in the state of Arizona was experiencing critical drum roller bearing failures on their McNeilus Tag Axle Cement Mixer trucks, resulting in high replacement and downtime costs. Since the end customer was experiencing these issues time and time again, the original equipment manufacturer (OEM) worked with Graco to specify the Graco E-Series™ automatic lubrication system.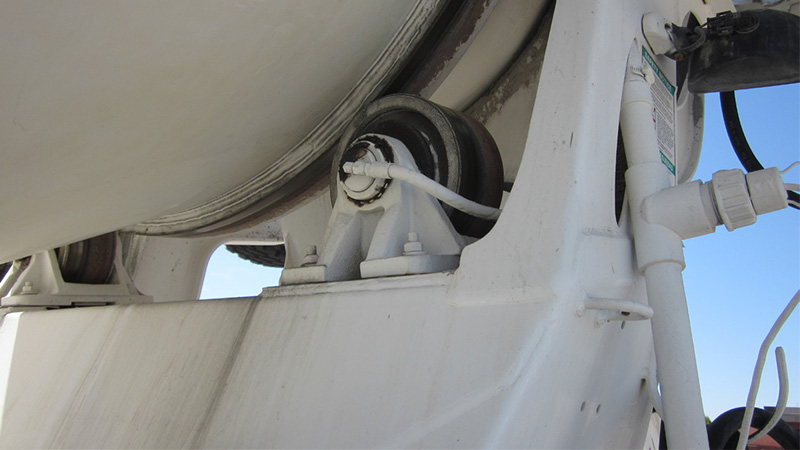 The E-Series automatic lubrication system features the E-Series pneumatic pump and Trabon® MJ valves, which distribute the appropriate amount of Exxon Mobil NLGI #2 grease to all critical drum roller bearings, tag axle bearings and hoist cylinder bushings. 
The automatic lubrication system is now factory installed for the customer. The return on investment by no longer having to replace the drum roller bearings and the cost of loss production justified the factory fit OEM costs within one year of service. Downtime and expense associated with critical bearing failures have been greatly reduced.
Have Questions? Let's Talk.
Call Support
Monday-Friday
7:30 a.m.-5 p.m. Central Time
Contact Us
Contact Graco
We'll help you choose the right product for your use.