Bulk Fluid Management Systems
Graco's fluid management system tracks and monitors the dispensing of common shop fluids: petroleum and synthetic oils, antifreeze, gear lube, hydraulic fluid, automatic transmission fluid and windshield wash solvent. You'll save time, gain billable hours and maximize your fixed operation's profitability with our systems.
AUTOMATE FLUID MANAGEMENT—IDEAL FOR HEAVY EQUIPMENT SERVICE SHOPS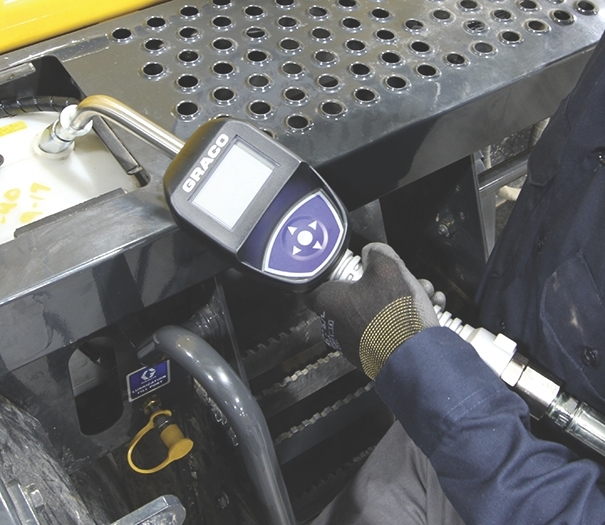 WIRELESS TRANSMISSION & RECEPTION
---
CONTROL COSTS AND INCREASE PROFITS
Install Graco fluid management into any heavy equipment service or mining shop. When installed into your workshop, our bulk fluid management system better controls costs and increases profitability through tracking of all fluid usage. As your operations expand, you can easily add more components and capabilities.
System components include Pulse™ Hub, Pulse Dispense Meter, Pulse Pump Air Control (PAC), Pulse Tank Level Monitor (TLM) and Pulse Extender and Remote Extenders. Together, these components wirelessly talk to each other through an RF signal to collect data from fluid dispenses, levels in bulk oil and waste tanks, plus much more.
EASY WIRELESS INSTALLATION; MODULAR FLEXIBILITY
---
Easily Identify Areas for Improvement
Through accurate data reporting, you can quickly identify areas within your operations where process improvements could be made.
Convenient Wireless Communication
Through convenient and reliable wireless communication all the components easily "talk" to each other, eliminating messy wiring. Wireless communication is ideal for any size workshop from smaller service garages to the largest service workshops.
Be More Productive
Refill based on need, not schedule through automation and close tracking of fluid tank levels, you can refill based on need, not schedule.
How Much Money Can Your Shop Save?
Use Pulse Fluid Management to effortlessly track fluid dispenses with unyielding accuracy. Show customizable reports. Share the data. And use the ROI calculator to prove that Pulse can help recoup investment costs within only a few months.
Browse Bulk Fluid Management Systems
Have Questions? Let's Talk.
Call Support
Monday–Friday
7:30 a.m.–5 p.m. Central Time
Email Support
Request a Quote
We'll help you choose the right product for your use.