Interior Texture Sprayer Accessories
From rugged guns and tips to hoses and hoppers, Graco accessories for interior texture applications let you customize your sprayer for maximum performance to help you grow your business.
Browse Interior Texture Sprayer Accessories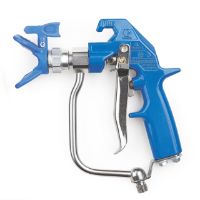 Graco Texture Guns are the ideal guns for heavy coatings and joint compounds. These guns feature oversized passages and a filterless design for maximum flow and superior atomization. The ergonomic, lightweight designs provide maximum control and comfort for effortless, all-day spraying.
Have Questions? Let's Talk.
Call Support
Monday–Friday
7:30 a.m.–5:30 p.m. Central Time
Email Support
Find a Distributor
For local sales and service support