Cementitious Fireproofing Pumps
Graco's versatile fireproofing pumps can easily apply low, medium, and high-density cementitious fireproofing material (SFRM) to columns, beams, joists, decks, walls, floors, and more. Graco has a full line of fireproofing pumps to get the project done.
SPRAY CEMENTITIOUS FIREPROOFING MATERIALS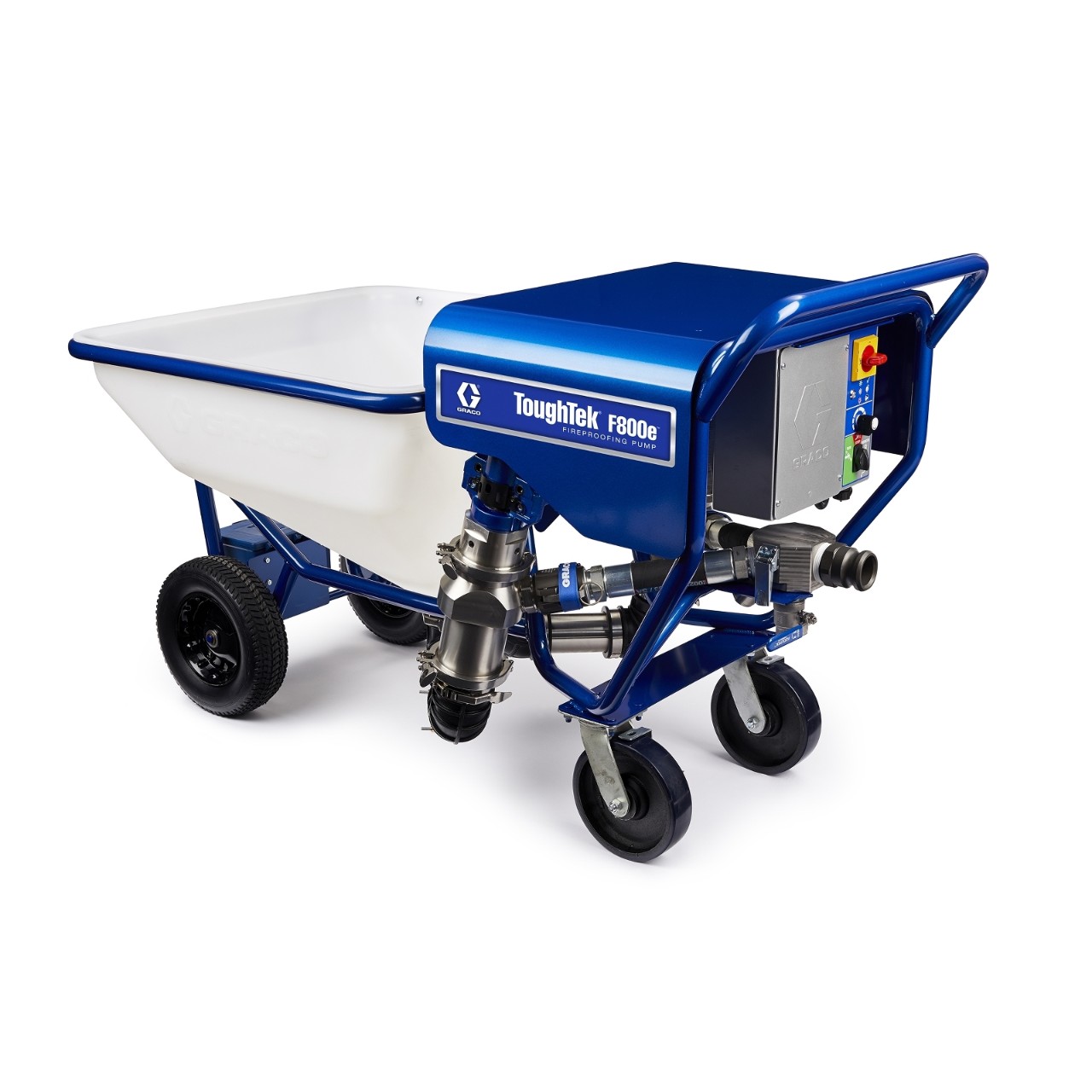 POWER & VERSATILITY
---
When the Job is This Critical, Count on Graco Pumps.
Our cementitious fireproofing pumps offer you higher production output in a portable, light package you can easily wheel around your job site. These versatile pumps can handle everything from small patch jobs all the way up to high-production jobs requiring more than 150 bags a day.
FLEXIBILITY IS KING
---
A Single Pump Handles all Your Fireproofing Needs
Powerful Meets Portability
Graco's piston and rotor stator pumps are not only compact and easy to take from one job to another, but can easily handle low, medium and high-density spray-applied fire resistive materials (SFRMs).
Touchups to Large-Scale Jobs
Whatever fireproofing material you're working with, Graco pumps can handle a mix of jobs from small touchups all the way to factory-size projects.
Piston Pumps vs. Rotar Stator
---
Fireproofing Pump Comparison Chart
 
F340e Piston Pump
F800e Piston Pump
P30x Rotor Stator Pump

Material output*

20 bags/hr

40 bags/hr

35 bags/hr

Maximum flow rate**

12 gpm (45 lpm)

26 gpm (98 lpm)

16.6 gpm (62.8 lpm)

Power input

120V, 15A
230V, 10A, 1Ph

240V, 30A, 1Ph
(2) 120V, 15A

240V, 30A, 1Ph

Hopper Capacity

20 gal (76 L)

40 gal (152 L)

63 gal (239 L)
*Bags per hour dependent on material selection and hose set-up
**Testing in water
Browse Cementitious Fireproofing Pumps
Have Questions? Let's Talk.
Contact an Expert
We'll help you choose the right product for your job.
Tech Support
Monday-Friday
7:30 a.m.-5 p.m. Central Time
Email Support