Gold Mine Successfully Implements Full Fluid Handling Solution
Graco offers complete solutions for mining equipment maintenance – both on vehicle and in repair facilities.
Heat is always a part of the job, but at 104°F, even experienced equipment operators at the Eastern European mine site are careful to avoid touching the nearby metal exposed to the sun. Mining for gold is a tough task – and the weather only makes up a portion of the difficulties at the site.

Graco arrived onsite after hearing the frustrations experienced by the customer and their team. Fourteen Komatsu HD465-7 rigid dump trucks were in operation at the site, with the expectation they would run 24/7 with minimal downtime. Unfortunately, this was not the case.
Each truck was factory-fit with a stock auto greasing system, a necessity for heavy-duty mining equipment. By the time that Graco became involved, these systems were a key cause of concern and replacements were required for operations to meet expected levels of productivity.
The Problem

In an environment where time easily equates itself with money, a line of dump trucks waiting to refill their grease reservoirs is a problem, one made worse when it becomes a daily occurrence.
With a single pneumatic grease pump at the site and fourteen vehicles saddled with improperly sized equipment, a chain reaction of issues began to surface. The reservoir, which did not indicate volume level, would be frequently overfilled to compensate for lost time or tampered with to show capacity. The pump itself did not operate well in a mining environment, leading to check valve failure and a constant need to change out parts.
If these issues were not enough to spur a change, the lubrication pump on the trucks was not sufficiently powerful enough to deliver grease to the vehicle's most distant lubrication points. This meant that, despite having automatic lubrication equipment, operators would still have to lubricate manually, leaving ample opportunity for grease zerks to be uncapped and contaminated with dust and dirst after maintenance. 
 
The Graco Solution
When capacity is an issue, sometimes bigger is indeed better. After discussing these reoccurring issues and hearing from the customer what the most prominent pain-points were in using their current systems, Graco fitted each of the 14 Komatsu HD465-7 rigid dump trucks with a Graco Mining Kit.
Included with this kit was a Graco Compact Dyna-Star® with a 12 liter reservoir and Auto-Fill Shut-Off (AFSO), pressure and level sensors, remote-fill manifolds for faster refilling, GL-1™ X heavy-duty injectors and GLC™ X Bluetooth controllers directly compatible with the Graco Auto Lube™ app for wireless fluid tracking.
Taking on the elements and carrying out the work was Danila Samosyuk, Business Development Specialist at Graco, along with two technicians from a local distributor. "It took the three of us around ten hours per truck to remove the old system and install the new Graco automatic lubrication system," Danila recalls.
The Compact Dyna-Star was chosen for each of the trucks because it provided a solution for all of the core issues the customer was experiencing with their prior systems. Avoiding the dump truck pile-up at the fill station was chief among the issues to solve – but was immediately the most simple to fix.
The pumps selected had a reservoir capacity of 12 liters, a significant upgrade for each vehicle, enabling trucks to run consecutive days without a grease fill up. When a stop is required, the remote-fill manifold greatly reduces the time needed to fill the reservoir by offering a more convenient ground-level refill location for drivers and technicians. This location additionally enhances the safety of this process, removing the need for operators to climb up equipment to make an attachment directly to their pump system. The system's AFSO keeps grease from overflowing onto the catwalk or ground, preventing both maintenance and drivers from slipping and injuring themselves while navigating around the vehicle.
Beyond the pumps themselves, enhancements were made to both the exterior and interior of each vehicle. Each rigid dump truck received 35 new GL-1 X injectors to service all of the lubrication points of each vehicle. The robust design, specifically tested for use in harsh environments, ensured these injectors would last and continue to deliver consistent volumes of grease while the trucks were in use.
Inside the vehicle and in full view from the driver's cabin, Graco personnel installed a GLC X controller for real-time system reporting.  Thanks to its easy-to-read LED screen, operators can clearly see text codes, faults and other data in any ambient light condition. The controller enables real-time system reporting of lubrication intervals, pressure limits, lubricant levels and more. It connects via Bluetooth to the Graco Auto Lube app, enabling remote monitoring of the above data and the sharing of both run history and important diagnostic information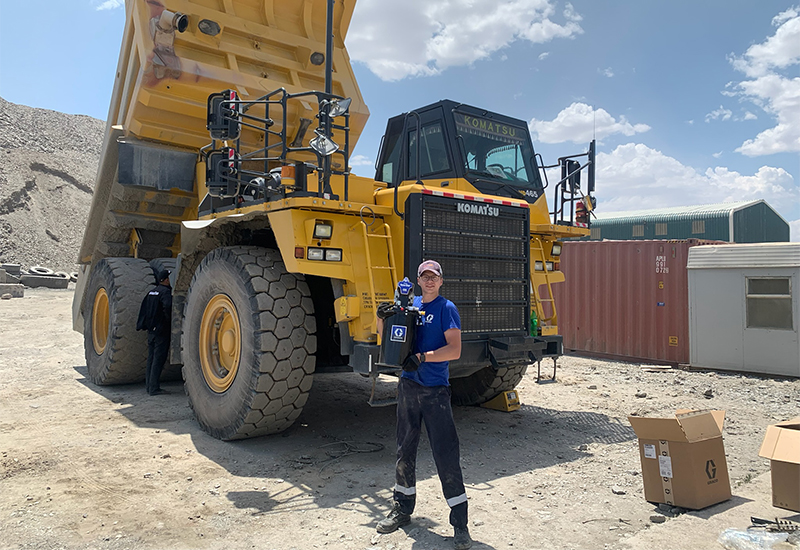 &nbsp
&nbsp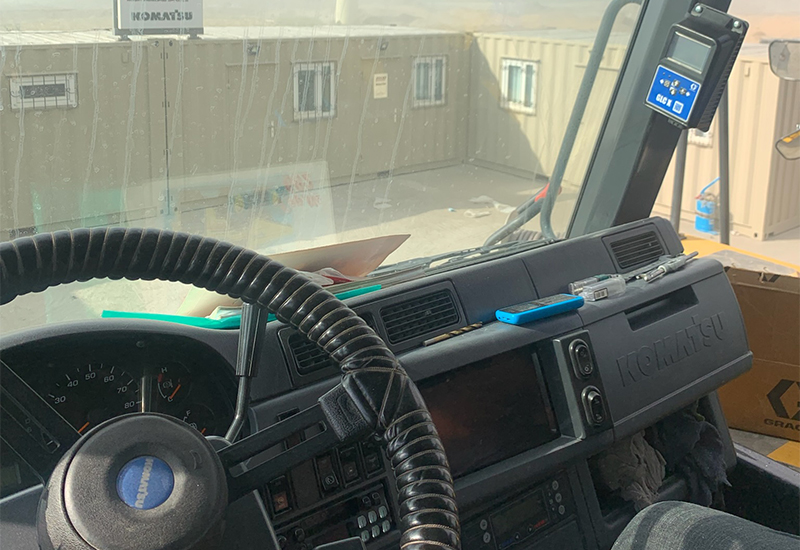 Determine which automatic lubrication kit is correct for your piece of equipment.
---
Yellow Iron Kit Selector Tool
Offering a Full Fluid Handling Solutions for Mining

The customer was impressed by the immediate impact Graco had at their mine site, subsequently engaging the team to develop a comprehensive maintenance and fluid management solution for their business.
This gold mining operation had a total fleet of over 60 vehicles in operation. Running the gamut from excavators, graders, to loaders and more, the number of vehicles in operation quickly overwhelmed the capability to provide thorough maintenance. As discussed previously, the 14 rigid dump trucks were relying on a single pump to refill grease, and this scarcity of maintenance equipment was a common theme across the site.
After discussions with the site manager, it became apparent that not only did the scale of the solution need to match current operation strategy, so did the customizability of their fluid management solution. So, in cooperation with the local authorized distributor, Graco offered a lube container equipped with Fire-Ball® pumps to supply fresh oil, Husky® pumps for waste oil evacuation, XD™ Series heavy-duty hose reels, and a Pulse® Pro Fluid Management System.
Delivered as a turnkey solution, the lube container immediately enhanced site maintenance practices. Not only did it offer more fluid refill locations, each dispense could be accurately logged and tracked using the new Pulse Pro Fluid Management System. From a logistics standpoint, this was a significant upgrade to the mine site's ability to understand usage, prevent oil waste, and to plan for future inventory purchasing. 
Tailored Solution, Golden Results
"The customer was delighted as the new Graco automatic lubrication systems give 10-12 days of continuous duty," says Danila.

"The system immediately reduced the downtime of the previous system, gaining at least an hour more availability per truck per day. With 14 trucks in the fleet, this is almost like having another truck available for work. When multiplied across all 14 trucks, it adds up to over 5,000 productive hours gained through the course of one year."
 
Coupled with data visualization from dispense to the pumps themselves via the Graco GL-1 X controller, new operational vantage points gave clarity to not only the operating condition of a single truck, but the entire fleet of vehicles keeping the gold mine site running.
Now, when the sun is sweltering and work needs to get done, operators at this site have the confidence they can keep on moving, hauling, and delivering.

"Komatsu" is a trademark of its owner, is used for identification purposes only and is not to be construed as an endorsement by the owner of the "Komatsu" brand.
White Paper
---
MAINTENANCE EFFICIENCY IS KEY TO MINING OPERATION PRODUCTIVITY
Learn more about how maintenance efficiency can help your mining operation save money, increase safety and improve productivity.
If you are interested in learning more about Graco Mining automatic lubrication, fluid handling and workshop solutions, fill out the contact form below.