Corrosion Protection Coatings Sprayers
For manufacturers looking for the industry's broadest selection of corrosion protection sprayers, Graco offers unmatched high pressure performance and cost saving reliability. These built-to-last sprayers are designed to handle polyurea, polyurethane, marine, two-component, hybrid coatings, and more. Our corrosion protection sprayers are ideal for the in-plant coating of pipes, industrial equipment and reinforced steel structures.
STEEL & PIPE PRODUCTION – KEEP CORROSION AWAY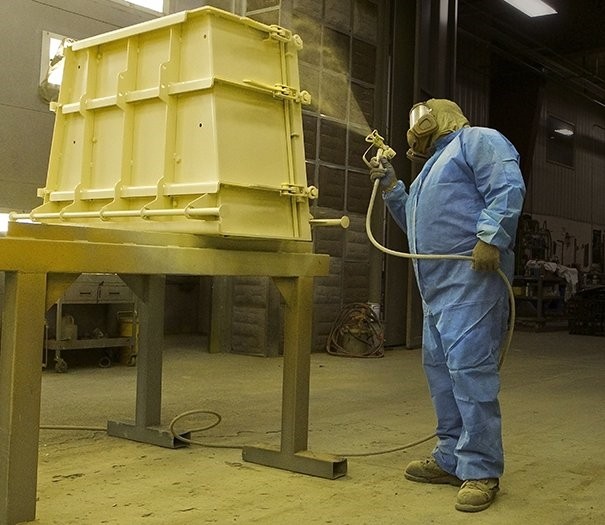 CORROSION PROTECTION SPRAYERS FOR MANUFACTURING APPLICATIONS
You'll increase your manufacturing productivity significantly when you start using a Graco airless corrosion protection industrial coatings sprayer for your corrosion control production. Our versatile sprayers handle scores of materials – with sprayers requiring hand mixing/hot potting, and plural component sprayers that mix material for you. In the process, you'll also achieve a high quality, professional finish and reduce your material waste. Additionally, when you're using two-component materials our plural component sprayers accurately mix the ratios every time.
FOR SMALL TO LARGE-SCALE PRODUCTION
Spray a Broad Range of Solids
Graco's corrosion control sprayers for manufacturing applications easily handle a broad range of the industry's most stringent solids – medium to high – including 100% solids and solvent-free coatings.
Industry-Leading Warranty
We cover our corrosion protection sprayers with an industry-leading warranty. If your sprayer has a defect or fails for any reason, you're covered.
Browse Corrosion Protection Coatings Sprayers
Filter results
---
Type
---
Power Source
---
Product Type
---
Material Application
---
Control Type
---
Filters