Electric Drum Pumps
Increase ingredient processing from drums to fillers and kettles with Graco electric drum pumps, available in both centrifugal and progressive cavity configurations. These fluid transfer pumps transfer ingredients quickly, hygienically, and safely saving both time and money.
BUILT FOR LOW VOLUME TRANSFER OF FOOD, BEVERAGE & PERSONAL CARE PRODUCTS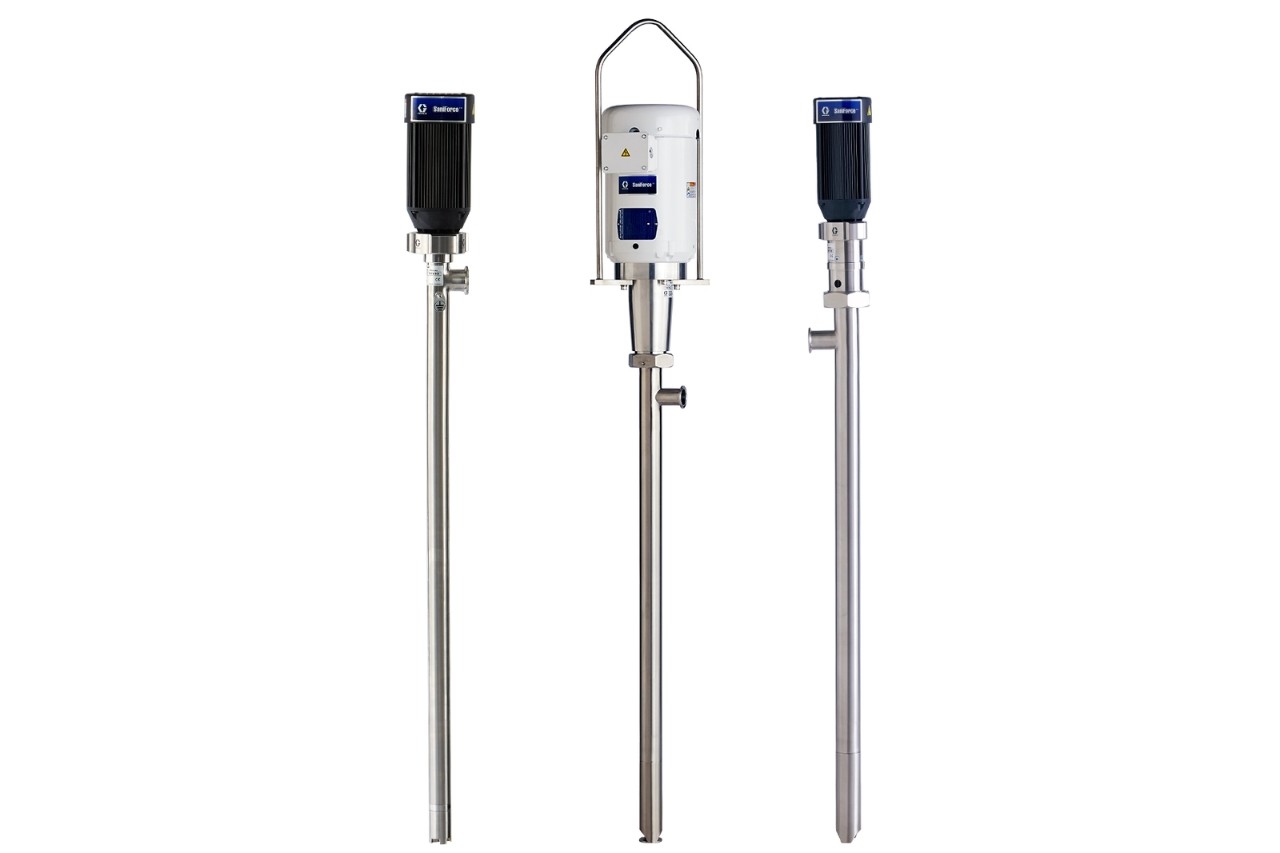 QUICK AND SAFE TRANSFER OF LOW TO HIGH VISCOSITY FLUIDS
SaniForce fluid transfer pumps make it easy to transfer low, medium and high viscosity fluids from ingredient drums. Graco Drum Pumps are easy to clean, decreasing production delays during product changeover. The hygienic pump design is ideal for most food, beverage and personal care applications including edible oil, juices and concentrates, pharmaceuticals, personal care production and fluid transfer in breweries, distilleries and wineries.
OPERATE YOUR ELECTRIC DRUM PUMPS ANYWHERE
Easy Cleaning
With minimal moving parts, our FDA-compliant drum pumps feature a simple knock-down design, which makes cleaning between drums and product changeovers a simple process.
Installation Flexibility
Variable speed electric motors give you the flexibility to operate your electric drum pumps anywhere in your facilities. Use these fluid transfer pumps with drums, totes, or kettles.
Reduced Maintenance
An innovative and simple design that doesn't include valves or moving parts reduces costs and minimises equipment downtime.
Browse Electric Drum Pumps
GET HELP FROM A LOCAL DEALER
Have Questions? Let's Talk.
Call Support
Monday–Friday
8:30 a.m. – 5:30 p.m.
China Standard Time
E-mail Support
Find a Distributor
For local sales and service support