Press release - April 19, 2021
New SaniSpray HP20 Electrostatic and SaniSpray HP ProPack
Complete more sanitising jobs in less time with the expanded SaniSpray range
The new SaniSpray HP™ 20 Cordless Electrostatic Airless ProPack system includes the most powerful airless and electrostatic spraying capabilities. This enables ultimate flexibility and portability to quickly handle every disinfecting job.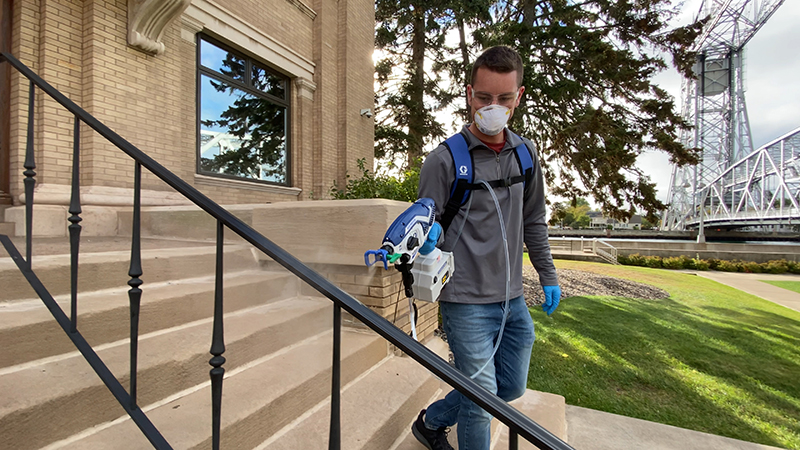 The SaniSpray HP 20 Cordless Electrostatic Airless ProPack is the only portable disinfecting system with three powerful technologies in one system.
To provide consistent coverage from edge to edge on a wide variety of surfaces, it uses the industry's highest-powered airless spray. This delivers up to 69 bar of spraying pressure for 10 times more productivity in comparison with competitive systems.


The system's high-powered electrostatic technology enables superior wrapping coverage on jobs involving more complex surfaces. The electrostatic technology is driven by its patent-pending pump design and multiple grounding options.


The added ProPack backpack holds over 9 times the capacity of fluid for a comfortable, ergonomic and portable high-production system. This enables you to spray longer and finish large disinfecting jobs faster. It's a unique system that provides additional material application flexibility by allowing operators to quickly switch between the large ProPack backpack and the smaller FlexLiner Cup. Moreover, the new ProPack is also compatible with the current SaniSpray HP20 and can also be bought individually as an accessory.
For more information, visit www.graco.com/sanispray.
Disinfectant Sprayers
Graco SaniSpray disinfectant sprayers use the power of airless spraying to deliver maximum productivity and efficiency when disinfecting surfaces. This complete line of custom-built sprayers is specifically designed to handle the unique demands of disinfecting jobs.