Graco provides sales professionals with the opportunity to represent and sell world-class quality equipment. Our equipment provides solutions to companies big and small, helping them grow their business and become more successful in the marketplace.
Sales representatives at Graco have the flexibility and freedom to manage their own territories and treat it like their own business. This flexibility and support structure from corporate allows Graco to hire and develop a world-class sales force.
Graco offers generous pay and an uncapped bonus potential. Our high performers have the possibility of being rewarded through sales leadership awards.

The majority of the sales positions we recruit for are district manager and business development specialist positions in charge of managing and creating construction and industrial distribution channels within an assigned territory or region.
Our sales professionals are those with high energy, technical aptitude, effective written and oral communication skills and the ability to work with all levels of the organisation.
We look for those who are willing to travel and enjoy autonomy over their work while creating and sustaining strong business relationships.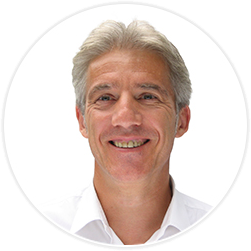 "I have been working with Graco since 1988 and, as of day one,
I have enjoyed it.

Within Graco, it is never boring as I have the opportunity to learn a lot about products, new applications & technologies, territories, people and much more. The great thing is that I am still learning,  it is a continuous ongoing process.
Sales people at Graco have an important role as they embody the image of Graco with our customers and we guarantee A+ Service to them. I started my Graco career as a Business Development Specialist,  then moved into a Sales Supervisor role and was promoted to Sales Manager in 2013.
You see, everyone has the possibility to grow within this company.  Patience and perseverance will be required, however opportunities will come for those showing enthusiasm, passion, engagement and the will to work hard.
Always push for the best!"
 
Fabien Spierckel
AFTD Sales Manager
Join the Graco Team
If you're ready to take the next step, we'd love to have you on our team. Explore our open positions.