TECHNICAL SUPPORT & TRAINING
The Graco EMEA technical support team helps, by phone or email, resolve technical issues a distributor or end user throughout the EMEA region might face by detecting the problem, giving repair advice, configuring application settings and solving application questions.
Their extensive technical knowledge is also beneficial to support the sales & marketing and customer service teams.

Since 2009, the Graco EMEA headquarters has had a fully equipped training centre where more than 200 in-house trainings and events are given each year to about 1,300 internal and external trainees.
A good way of getting hands-on training from expert instructors and to solidify knowledge through practise exercises.
Learning on the go? With Graco you can. Anytime, anywhere. 
The Graco University is the go-to e-learning platform to learn more about Graco's product ranges, their implementation and maintenance, and contains over 500 free courses in several languages.
Not to forget free webinars about a wide variety of topics, ranging from general background about new products to hands-on explanations of how to disassemble a piston pump.
"Working at the Technical Support department is a continuous learning process. Experience is of course an asset, but to give us the possibility to offer an A+ Customer Experience to our customers, Graco provides us, at any time, with appropriate training on all Graco equipment,  and this, thanks to our in-house training facility as well as by offering external trainings.
As such I always remain "up to date" with the different technologies. That's why our expertise is well recognised by our customers.
As Technical Support team member, development opportunities and career growth are available, such  as moving into Product Marketing, Training, Sales …"
 
Mourad Azdadi
Technical Support Team Leader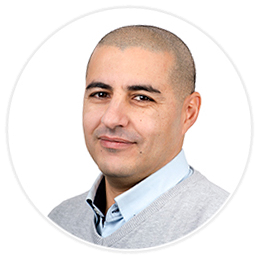 Join the Graco Team
If you're ready to take the next step, we'd love to have you on our team. Explore our open positions.