Floor Coating Sprayers
Flooring contractors prefer Graco's floor coating sprayers for the line's ability to handle a mix of materials, including single-component epoxy paint, and plural-component polyurea and polyaspartic coatings. In far less time you can use a roller, Graco floor coating sprayers can lay down a perfect, smooth finish every time. These versatile sprayers are ideal for coating garage floors, basement flooring, warehouses, and other industrial floors.
SPRAY GARAGE FLOORS, WAREHOUSES, AND BASEMENT FLOORING
MORE TIME TO DO MORE JOBS
---
EARN HIGHER PROFITS, WITH A QUALITY BONUS
Browse Floor Coating Sprayers
Filters:
Type: Proportioner System
Clear all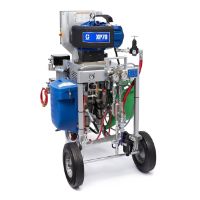 Engineered for projects that require faster-setting two-part coatings, Graco XP Sprayers are easy to use and provide on-ratio, excellent spray quality for fast-curing materials.
Have Questions? Let's Talk.
Contact an Expert
We'll help you choose the right product for your job.
Tech Support
Monday-Friday
7:30 a.m.-5 p.m. Central Time
Email Support