Applying High-Solids Coatings with Short Pot-Life
Success Story: Civardi of Italy
Sandblasting and Coatings Specialists
Civardi, Italian specialist in sandblasting and in coating of general metal structures, was looking for a solution to apply a high solids coating (thickness 400 microns) with a short pot-life. The coating was for new pipes built for the transportation of crude oil in the petrochemical industry.
Civardi was looking for a versatile, reliable machine which could register spray data for quality control purposes and could electronically change mix ratio for future applications. The material needed to be applied with an automatic turbine applicator, however, Civardi's existing equipment was not fit for this application and they needed a new unit capable of applying the tough material in a smooth and controlled way.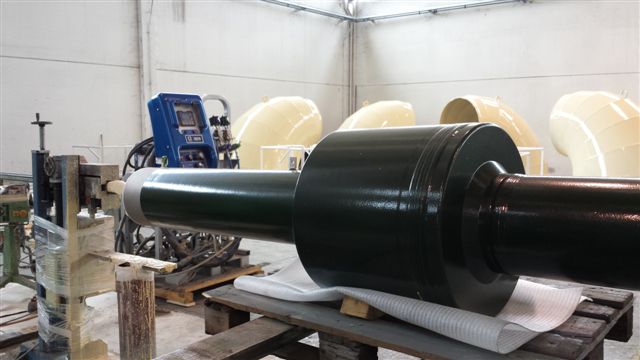 Reduced Time for Changing Coatings
The local distributor, Mac.Ver, installed Graco's XM plural component sprayer with an IS heater, stainless steel tanks and provided the equipment necessary to operate the automatic turbine (electronically controlled, rev range 5000-2000).
The XM unit was selected for its easy and versatile configuration capabilities that allow it to be used for different two-component coatings. One of the main benefits of this solution is the ability to change the catalyst in a very short time, reducing overall operations when changing coatings, often needed more than once a day.
Consistent Mix Ratio and Thickness
peace of mind you can't really put a price on
Civardi was very satisfied: "The Graco XM plural component sprayer has great control over the mix ratio which stays consistent and accurate throughout production. Material thickness is also consistent."
The Graco XM plural component sprayer has enabled Civardi to increase productivity with great quality control. The new equipment has also saved Civardi intensive labour costs generated by hot-potting and eliminating human mistakes connected to this practice. "The XM unit automatically mixes the material with mix ratio control: it's easy, fast and reliable.  We now spray knowing that the spray parameters set by the material manufacturer are respected; a peace of mind you can't really put a price on."