Fusion PC Gun
A quick-change cartridge to replace the entire front fluid section of your Fusion AP Gun
A Perfect Rebuild in Seconds

Less parts. Less labor. Less downtime.
The old days of spending time and effort cleaning the fluid section of a spray gun are gone. The new Fusion PC (ProConnect) gun features a replacement cartridge head that replaces multiple individual parts with a single component. Simply replacing a cartridge allows for a much faster rebuild, which keeps you spraying and minimizes costly downtime.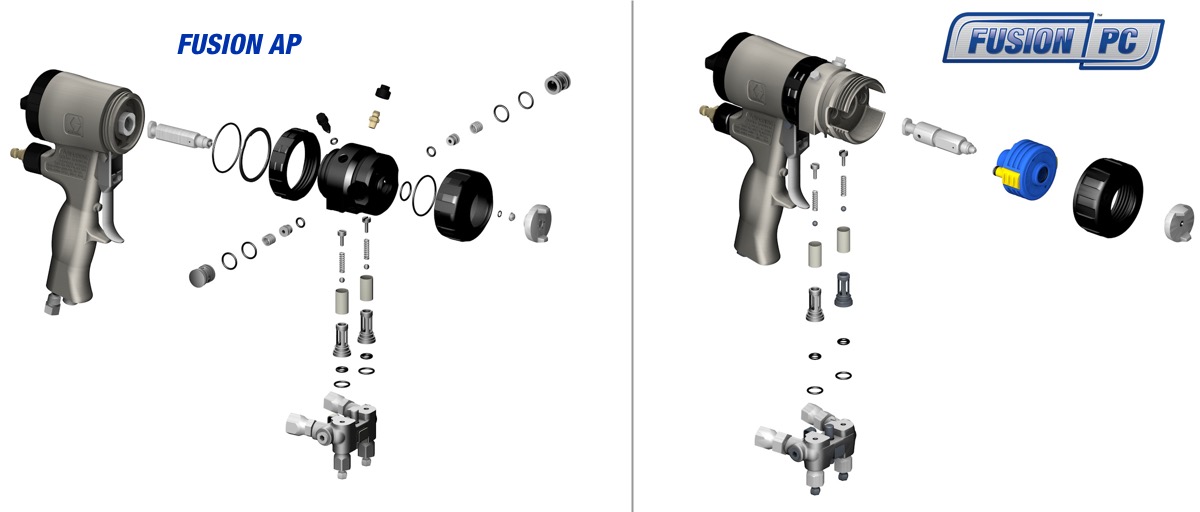 With ProConnect technology in the Fusion PC gun (right), the entire fluid section including the side seals and all associated o-rings are replaced in a single cartridge compared to individual parts like the Fusion AP (left). This allows you to rebuild you gun like a pro and finish your job every time.
The ProConnect Sprays Like any Fusion AP
The new Fusion PC gun won't let you down. It feels and sprays just like the time-tested Fusion AP gun and has the same form factor and excellent spray pattern that has become the industry standard. Many of the same parts are used in construction and options will be available to upgrade existing Fusion AP guns to the new ProConnect technology.
Please keep me informed of product updates and when the Fusion PC will be available for me to purchase.
Download the flyer to get more information on the new Fusion PC gun, the industry's fastest air-purge gun to rebuild.