Controllers
With Graco's electronic injection rate controllers, closely control and monitor chemical use and collect critical operating information for reducing costs and improving processes. Accurately control your injection rates, monitor on-site conditions of the injection point, and store data to help manage chemical costs and equipment performance.
CONTROL INJECTION RATES & MONITOR CHEMICAL USAGE
CLOSELY MONITOR EVERYDAY OPERATIONS
Whether your chemical injection equipment is being used in upstream, midstream or downstream applications, chemicals are becoming one of the top operating expenses at the well site. Optimise chemical usage with Graco electronic injection controllers by closely monitoring everyday operations to help you make informed decisions on your injection rates, reducing the amount of chemical waste.
SET UP YOUR CONTROLLER QUICKLY
Optional Cellular Connectivity
Some models give you the option to connect remotely. You're able to monitor, control and adjust your system parameters remotely via cellular or SCADA connection.
Simple Controller Interface
Our controllers range from a simple ON/OFF timer with temperature control to a fully automated smart controller that features remote pump control and tank level monitoring.
Minimise Chemical Waste
With advanced features like flow control, you can maintain a precise, constant injection rate. The result is accuracy in dispensing the right amount of costly chemicals. No more, no less.
Filter results
---
Type
---
Filters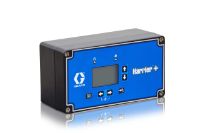 Graco AC and DC electrically powered Harrier controllers offer basic off/on time control with the Harrier EZ and enhanced smart control capabilities with Harrier+ controller. Harrier+ remotely manages chemical injection pumps and has tank level monitoring via SCADA or through cellular mobile connect...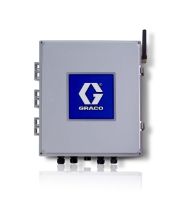 Modular Control Boxes can be ordered to include the choice of charge controller, pump controller and completely wired and installed. For DC operated solar systems, additional options include one to four battery options. NEMA rated control boxes are also offered in DC and AC power options.
Do You Have Product Questions?
Call Support
Monday - Friday
7:30 a.m.- 5 p.m.
UTC -6h
(USA Central Time)
Email Support
Contact an Expert
We'll help you choose the right product for your use.