Auto Lube Controllers
Graco auto lube controllers allow you to set up, monitor performance and gain critical feedback on your automatic lubrication system. Graco manufactures a broad range of these versatile devices with flexible installation configurations, which are ideal for manufacturing and industrial machinery.
CUSTOMISE LUBRICATION TIMES, PRESSURE & CYCLE COUNTS TO MAXIMISE PRODUCTIVITY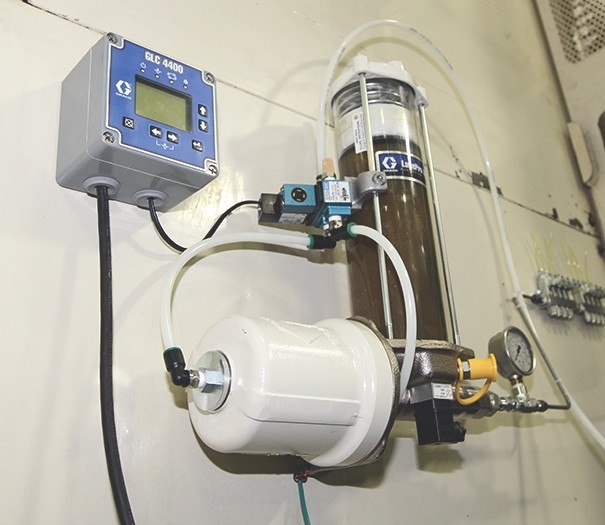 TAKE TOTAL CONTROL BY OPTIMISING LUBRICATION INTERVALS
Industrial machinery with auto lube controllers and automatic lubrication systems, experience less downtime than manually lubricated equipment. We design our reliable auto lube controllers to stand up to the high production demands your machinery faces every day.
COMPLETE CONTROL OF YOUR AUTO LUBE SYSTEM
Easy-to-Mount Controllers Handle Every Aspect of Your System
Graco easy-to-mount and install auto lube controllers give you a high level of control over every aspect of your automatic lubrication system. The simple icon- and menu-based user interface is easy to set up and operate, which minimises operator errors.
Easy-to-Program Automatic Lubrication Cycles
Automatic lubrication lowers your overall equipment maintenance costs, and Graco auto lube controllers allow you to program lubrication cycles to meet your equipment's specific needs.
Easy-to-Maintain
Your maintenance technicians can quickly inspect and troubleshoot the auto lube system by initiating a single lubrication cycle with the use of the manual run button. Lubrication profile settings can be protected with a PIN Code lock-out.
Browse Auto Lube Controllers
Filter results
---
Power Source
---
Compatible Metering Device
---
Intrusion Rating
---
Maximum Operating Temperature (°F)
---
Application
---
Filters
Filters:
Application: On-Road Vehicles
Clear all
For demanding on-vehicle automatic lubrication applications, professionals turn to Graco's GLC Series Controllers. These controllers provide the necessary options to get the lubrication system right-sized to your application.
Do you have any product questions?
Technical support
+32 89 770 847
Monday - Friday
8:30 - 17:00 CET
General support
+32 89 770 865
Monday - Friday
8:30 - 17:00 CET