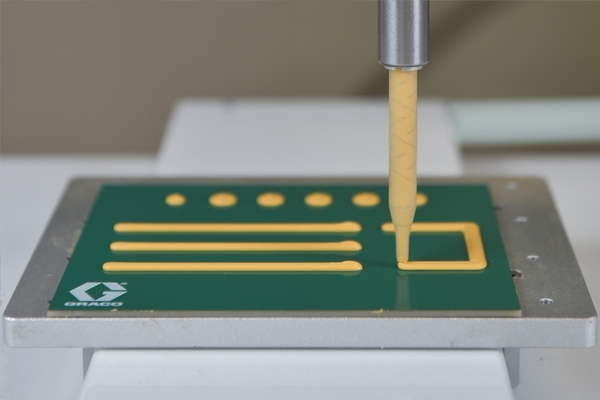 For precision sealant and adhesive metering, Graco's Advanced Two-Component Meter Mix Dispense Systems offer reliable accuracy for a broad range of applications such as bonding and sealing, potting, gasketing, encapsulation, form-in-place gasketing (FIPG), and thermal gap filling.
Our meter mix dispense machines can be configured to meet your specific production requirements. For a system recommendation suited to your application and material selection, contact our experts. 
PD44
PR70
Electric Fixed Ratio (EFR)

Hydraulic Fixed Ratio (HFR)
Minimum Shot Size
0.005 cc to 5.0 cc
2 cc to 70 cc
0.3 cc
30 cc
Fixed Ratio
Yes
Yes
Yes
Yes
Adjustable Ratio
Yes*
Yes*
Yes*
Yes*
Ratios
1:1 to 25:1
1:1 to 24:1
1:1 to 12:1
1:1 to 32:1
Drive
Pneumatic or Servo
Pneumatic or Servo
Servo
Hydraulic
Shot
Yes
Yes
Yes
Yes
Bead
Yes
Yes
Yes
Yes
Continuous Flow
No
No
Yes
Yes
Low Viscosity or Pourable Materials
Yes
Yes
No
Yes
Medium Viscosity
Yes
Yes
Yes
Yes
High Viscosity or Non-Flow
Yes
Yes
Yes
Yes
Supply Type
Supply Systems
Day Tanks or Supply Systems
Supply Systems
Supply Systems
System features and performance can vary depending on the material and application. Contact our experts for a recommendation suited to your production process.
*System ratios can be adjusted by replacing pump sizes.
Browse Advanced Two Component Systems
Do You Have Product Questions?
Technical Support
+32 89 770 847
Monday - Friday
8:30 - 17:00 CET
General Support
+32 89 770 865
Monday - Friday
8:30 - 17:00 CET