Bus Service Center Benefits from Fluid Management System
Belgian bus repair and service center selects Graco's innovative fluid management system

With the installation of the Pulse® Pro Fluid Management system, vehicle service shops can easily monitor what type of fluid is being used, where it's going, when it's dispensed and who's performing the work. This enables companies to simplify their operations, capture previously lost or unassigned costs and uncover hidden profits. One company to recently adopt Graco's Pulse Pro solution is LensCars in Belgium.
 
ONE-STOP SHOP
LensCars is a repair and service center specializing in buses. This one-stop shop performs mechanical, electro-pneumatic, automation, multimedia, bodywork and paintwork jobs — all in one facility. Focusing on providing impeccable service to its customers, LensCars is now the central repair and service center in Wallonia, Belgium, for bus brands IVECO, VDL and Solaris, whether the buses are diesel, hybrid or electric.
The company was established by brothers Julien and Francis Potty in 2002. Currently they have 22 employees and see up to six buses each day. Some buses are there for minor repairs and maintenance and stay for just the day, while others might stay for up to two months if major work is required.

AUTOMATING FLUID DISPENSING
The company's most recent acquisition is Graco's Pulse Pro Fluid Management System, which will enable LensCars to track its fluid dispenses. Composed of a few devices interconnected on a wireless device network, Pulse Pro authorizes fluid dispensing for LensCars, monitors the amount of fluid dispensed and measures current inventory levels.
At LensCars, Pulse Pro operates on a wireless device network that communicates with the handheld smart dispense meters, pump controllers and tank level monitors. Pulse Pro creates and manages this network through the Pulse Hub, which is a single board computer than runs a custom Linux-based operating system. This hardware forms the low-powered device network, runs the Pulse application that controls the Pulse Pro devices and hosts a webpage in the LensCars main office for user interaction with the system. To allow users to easily access the Hub from their own PCs and devices, it is connected to the local LAN.
"Previously we were dispensing fluids such as engine oil and coolants manually," explains Samuel Potty. "Sometimes technicians forget to record the dispense. With the quality, and therefore price of oil ever increasing, if that happens repeatedly it's a significant loss of income for us. Pulse Pro automatically monitors and records every single liter we use. No discrepancies means no lost income."
The Pulse Pro system was quickly installed in one day by a single Graco technician. All LensCars personnel were impressed at how simple the system was to use; no training was necessary. "It was very much plug-and-play!" says Potty.

UNIQUE MOBILE DISPENSE CARTS
Another benefit of the system is that each of the eight engine oils and two coolants used in the facility has its own gun, which is mounted on individual roll-around dispense carts. These enable each LensCars technician to easily maneuver the oil drum right up to the bus engine, which removes the need for long and potentially dangerous hoses trailing over the shop floor.
The Pulse Pro system can be expanded when necessary. The only components required to monitor exactly what and how much fluid the technicians are dispensing are the Pulse Hub and the Pulse Dispense Meter. Later, other Pulse components such as the Pulse Tank Level Monitor can be easily added to the system.
LensCars decided to go with the Pulse Tank Level Monitor right from the start. "We find this a very useful additional component as it automates inventory management," remarks Potty. "This is because the Pulse software screen in the main office visually shows the levels of fluid in each drum. I can therefore easily see when it's time to order a new drum of oil or coolant. Even better, the Pulse Pro system also sends an email notification when the amount of oil in a drum is dropping below a specified level. It's then a simple matter of sending an email to the appropriate fluid supplier."
Another optional and useful component is the Pulse Pump Air Controller, which shuts off air to the pump automatically when not in use, to prevent broken lines or draining tanks from leaking fluid all over the shop floor. A variety of extenders can also be added to increase the network reach throughout a facility.

PULSE PRO BENEFIT OVERVIEW
No matter the size of the installation, Pulse Pro Fluid Management enables valuable insights to be gained into bulk fluid management:
Transparency: Automatically monitor every drop, every time to minimize shrinkage, rounding and invoice discrepancies.
Accountability: Track issues to the source via advanced technology, including automated alerts and customizable reports.
Integration: Capture data, integrate it with popular DMSs and share it with other stakeholders quickly to improve scheduling, inventory, procurement, pricing and more.
Portability: Easily pair with mobile dispense units and drums to reduce extra steps and hassles for technicians.
Scalability: Add Pulse into any environment quickly, even retrofit applications or multiple buildings within the same facility, and avoid excessive installation costs and delays.
Accurate billing: Automatically assign every ounce of fluid directly to a work order to simplify billing and maximize profit margins.
Simplicity: Avoid surprises, interruptions and delays. Fluids are tracked and recorded instantly and automatically, so technicians can spend more time in the service bay — serving more customers.

TECHNICAL SPECIFICATIONS
Pulse Pro Fluid Management is compatible with petroleum- and synthetic-based oils (including automatic transmission fluid and gear lube), antifreeze and windshield wash solvent. It interfaces with common dealer management software providers such as Reynolds & Reynolds®, CDK Global®, Procede Software and Dealertrack Software through access via all major web browsers. It operates on 100-240 VAC line voltage for wired products and AA alkaline batteries for battery-powered devices.

MORE INFORMATION
For more information on Pulse Pro Fluid Management, visit gracopulse.com or fill out the form below to get in contact with a Pulse professional.
Related Products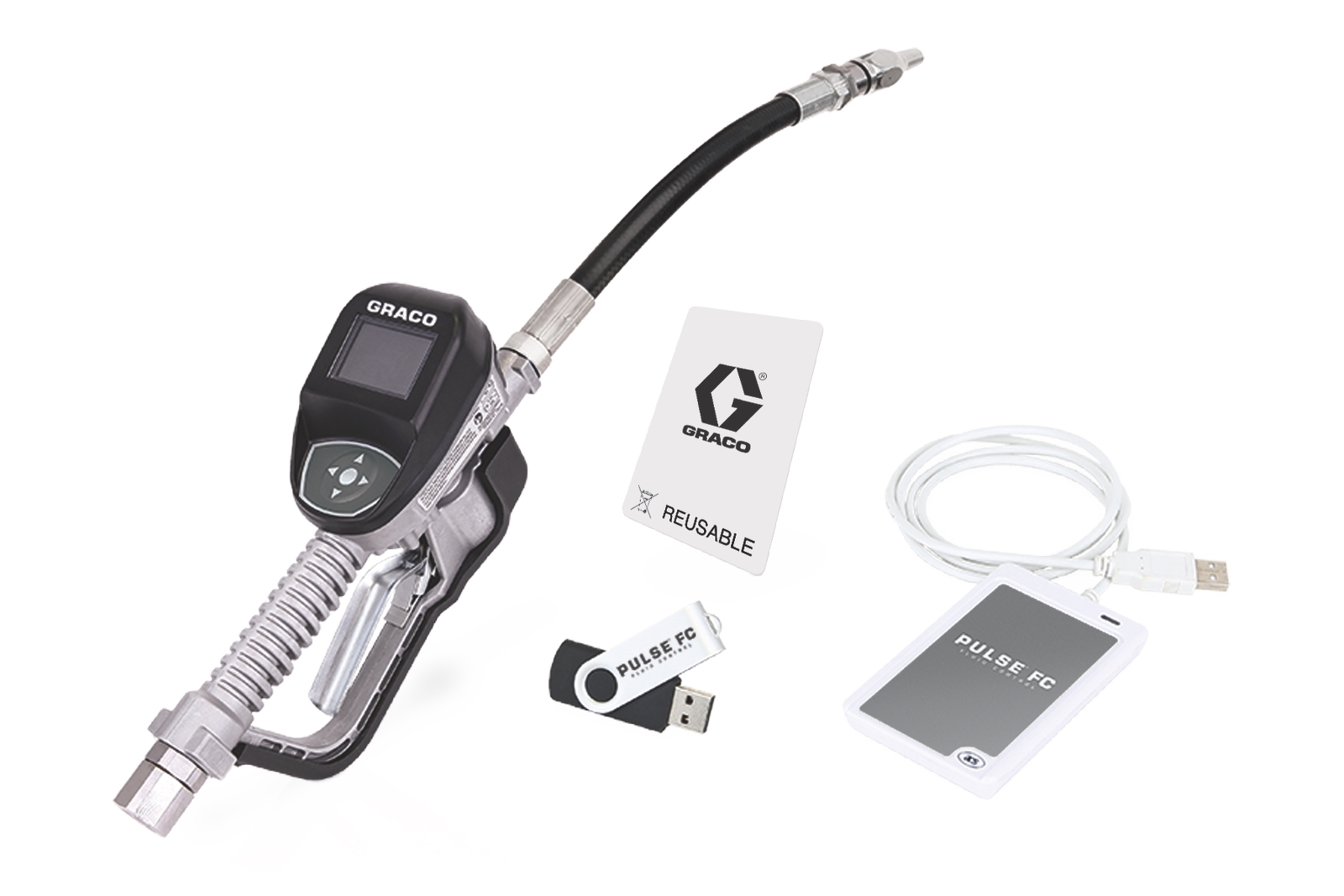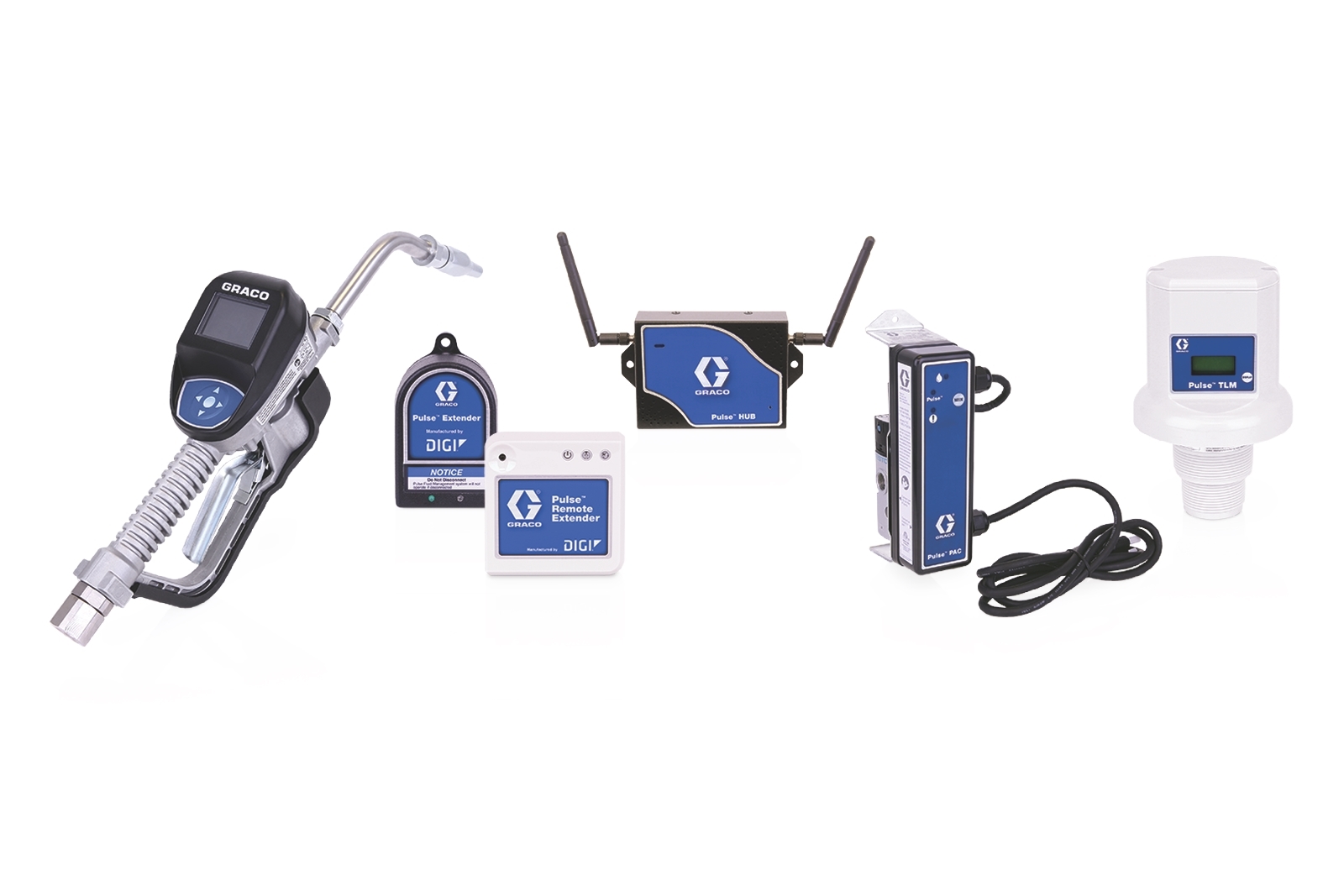 Check your Pulse
Take this quick quiz to find out what fluid inventory control or management system is right for you — and discover how it can greatly improve your operation's productivity and efficiency.