Floor Coating Sprayers
Flooring contractors prefer Graco's floor coating sprayers for the line's ability to handle a mix of materials, including single-component epoxy paint, and plural-component polyurea and polyaspartic coatings. In far less time you can use a roller, Graco floor coating sprayers can lay down a perfect, smooth finish every time. These versatile sprayers are ideal for coating garage floors, basement flooring, warehouses, and other industrial floors.
SPRAY GARAGE FLOORS, WAREHOUSES, AND BASEMENT FLOORING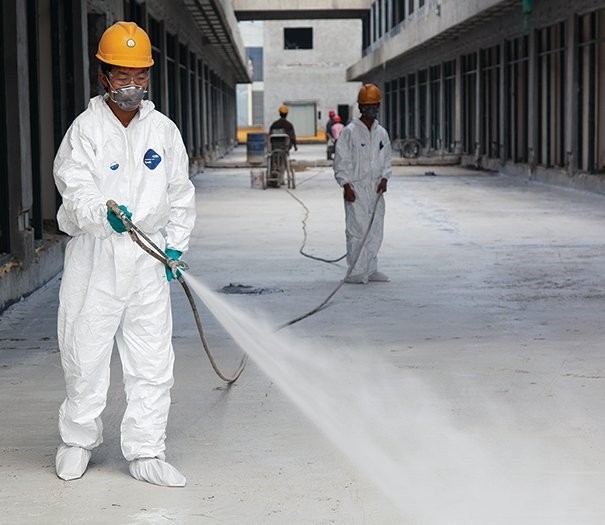 FINISH FLOOR COATING JOBS FASTER
When you transition to a floor coating sprayer from a roller, you'll cover larger areas more quickly and consistently produce high-quality finishes. Additionally, your setup times are quicker because plural-component materials don't require mixing, and when the job is done, cleanup is a cinch.
EARN HIGHER PROFITS, WITH A QUALITY BONUS
When You Work Faster, You'll Earn Higher Profits
Compared to applying epoxy paints and plural-component coatings with a roller, you'll more than double your productivity with a sprayer. Work faster, earn higher profits.
Engineered for Polyurea, Polyaspartic, and Epoxy Materials
Highly flexible Graco floor coating sprayers are designed to handle plural-component polyurea and polyaspartic materials as well as single component epoxy coatings. The engineering that went into our sprayers lets you apply and mix these durable and thick plural-component coatings, which are resistant to most chemicals. At the same time, your sprayer can lay down even coats of high-quality epoxies, such as those used to create non-skid surfaces. High-powered pumps enable the sprayer to atomise and spray thick materials.
Browse Floor Coating Sprayers
Filters:
Type: Proportioning System
Clear all
Reactor is the brand professionals have trusted for over two decades. Ranging from: turnkey/complete systems; high-mid production; entry level and portable/touch up systems. We have the sprayer to meet your needs.
Do You Have Product Questions?
Technical Support
+32 89 770 847
Monday - Friday
8:30 - 17:00 CET
General Support
+32 89 770 865
Monday - Friday
8:30 - 17:00 CET