Self-Levelling Underlayment Pumps & Mixers
Flooring jobs requiring self-levelling underlayment will get done sooner with Graco's mixing pumps. No more manually mixing your batches and wheeling barrels of mix. With our self-levelling underlayment pumps, the material is mixed automatically with water and pumped into precise locations. Graco pumps are ideal for any self-levelling underlayment materials. The takeaway: more efficiency with your existing crew.
IDEAL FOR LARGE JOBS—ESPECIALLY TALL BUILDINGS
SAME JOB AND CREW, FASTER COMPLETE TIME
Hand mixing and pouring self-levelling underlayment in large areas can be a logistics nightmare and limits your crew to covering one room at a time. Also, it's backbreaking work mixing and transporting material across job sites and can put a strain on your team's health. But with a mixing pump and small crew size, you set the flow rate, break bags into the hopper, and you're on your way. Save time and money by using a mixing pump.
SIMPLIFY BATCH PLACEMENT & SAVE TIME
Pumps Get Material to the Floor Faster
With one machine mixing and pumping; you won't be hauling mixed material all over the job site. Graco pumps do the heavy lifting for you, and you'll save time.
More Efficient Batch Placement
When mixing and pumping self-levelling underlayment, the process is more efficient than batch processing. You can work continuously and maintain a wet edge in a simple zig-zag pattern. No slowing down and no stopping.
Mixing Pumps, Rotor Stator Pumps and Continuous Mixers
---
SLU Mixers & Pumps Comparison Chart
 
MP20 Mixing Pump
MP40 Mixing Pump
CM40 Continuous Mixer + P40 Rotor Stator

Material output

100 bags/hr

200 bags/hr

300 bags/hr

Maximum flow rate*

27.6 lpm (7.3 gpm)

49.2 lpm (13 gpm)

70 lpm (18 gpm)

Power input

230V, 30A, 1Ph

230V, 16A, 1Ph, 50Hz

230V, 25A, 3Ph

380V, 25A, 3Ph, 50Hz

CM40:
230V, 30A, 1Ph
230V, 30A, 1Ph, 50Hz
230V, 25A, 3Ph, 50Hz

P40:
240V, 25A, 3Ph
Browse Self-Levelling Underlayment Pumps & Mixers
Filter results
---
Type
---
Filters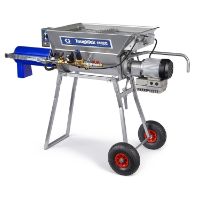 With a ToughTek continuous mixer, it's easy to improve your crew's production rates by automatically mixing pre-blended mortar products such as plaster, stucco and self-levelling underlayments.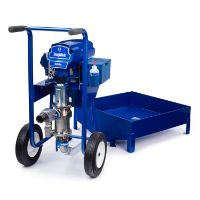 Stop moving your barrel mixer full of self-levelling underlayment all over the job site. Mix all your material near the pallets and let the SL340e pump the underlayment to wherever it's needed–even if it's three stories up.
Do You Have Product Questions?
Technical Support
+32 89 770 847
Monday - Friday
8:30 - 17:00 CET
General Support
+32 89 770 865
Monday - Friday
8:30 - 17:00 CET